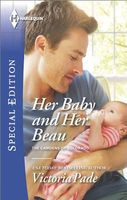 Series:
Camdens of Colorado
(Book 7)
A KID FOR A CAMDEN?
Schoolteacher Kyla Gibson spends her days keeping kids in line, but it's not quite the same as having a family of her own. But when Kyla is named guardian to her newly orphaned infant goddaughter, she becomes an insta-mommy! Soon, though, she's in over her head -- and she's stunned when her SOS is answered by the last man she ever expected to see…
Former Marine Beau Camden is shocked to see Kyla again -- and with a baby! It's been fourteen years since their last night together, after which she went AWOL. But the time for old grievances is past, and Kyla desperately needs his magic touch with little Immy. Can the soldier and his former sweetheart heal old hurts to create a future together, Camden-style?
Wonderful reunion story. Kyla is reeling from the events of the past few days. Kyla's cousin and her husband were killed in a fire while Kyla was visiting. Kyla was able to save the baby and now faces raising that baby on her own. She facing the recovery from her own injuries, raising Immy, and dealing with the financial aspects of Immy's inheritance when she is confronted by a blast from her past.
Fourteen years earlier Kyla and Beau had been teenagers in love. He was headed off to the Naval Academy and Kyla had no idea where her parents would be taking her. When she ended up pregnant, her attempts to contact him were unsuccessful until her father visited Beau's grandfather. He came back saying that Beau had denied it all. She was devastated by what she saw as Beau's abandonment of her. Her parents took her away, and not long after she lost the baby.
Out of the Marines after thirteen years, Beau is having some trouble adjusting to civilian life. He even feels a bit of an outsider with his own family. He wants to be part of the family business, but even with that he hasn't been able to find a place where he fits. His grandmother comes to him with information she found in his grandfather's journal, showing that he had kept the news of Kyla's pregnancy from Beau. With word of Kyla's troubles, Beau is determined to visit her and see if he can help.
I loved their reunion. It was a little rocky at first, as Kyla remembers her hurt and is reluctant to believe his explanation. She is also fighting the fact that she is still attracted to him. Beau is surprised to see her with a baby, but intent on helping her. His military training has him approaching it like a military operation. When he lets himself relax a little, his old feelings for Kyla resurface. But Beau is reluctant to get involved with Kyla while his life is still so unsettled. He doesn't see how being with Kyla and Immy has begun to change him. I loved seeing how sweet and gentle he was with the baby. I also loved seeing everything he did to make things easier for Kyla.
Their romance was a slow buildup as they dealt with past hurts and current fears. Kyla had grown up with parents who were musicians and never settled anywhere. They were always chasing their dreams, leaving Kyla to be the practical one. All she wanted was a place to put down some roots and have a family of her own. Seeing Beau again brought those dreams of a family back to the surface. But as much as she wanted structure in her life, she feared that Beau's version of structure was too much for her to handle. Beau discovers that Kyla gives him the balance in his life that he needs. But he has to find a way to convince her to give them a chance. I loved the ending and how sensitive he was to her worries.