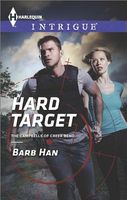 Series:
Campbells of Creek Bend
(Book 3)
She was trouble the size of Texas, but he'd cross every line to keep her safe
Border patrol agent Reed Campbell knew when he found a blonde beauty hiding out in a crate of guns smuggled into Texas she'd be nothing but trouble. Emily Baker claims she was kidnapped, beaten and held hostage by Mexico's most elusive drug lord, a man Reed's desperate to bring down. But the sexy cowboy has been betrayed before, so trusting a stranger -- no matter how strong their attraction -- isn't easy. Still, determined to protect her, he takes her on the run, risking his life time after time. Suddenly, the man who doesn't do feelings is in big trouble. Keeping Emily alive is a problem. Keeping his hands to himself becomes nearly impossible.
Action packed conclusion to the series. Emily had been on vacation in Mexico when she was kidnapped. Beaten and threatened, when she saw an opportunity she ran, and found herself hiding on a ship headed for the US. Reed found her there, hiding in a crate of guns being smuggled into Texas. He was suspicious of her claims at first, but when it became obvious that someone was after her he was determined to keep her safe.
Both Reed and Emily have some trust issues that make the beginning of their relationship a little rough. Emily has been alone for a long time, able to depend only on herself. Her childhood had been difficult, with a father that deserted the family and a mother that joined a cult looking for the love she craved. Emily had learned early that she couldn't count on anyone else. But with the trouble she's in now, she has to trust that Reed can protect her. I loved her independence, and that she didn't just sit back and let Reed take over once she decided to trust him. She was determined to be an active part in the whole situation. She hadn't counted on the attraction she felt for Reed and the way that attraction grew into love. She doesn't feel that she's good enough for a man like him, and that there's no future in dreaming of one.
Reed has trouble trusting anyone outside his family any more. A year earlier he had been shot and left for dead by a fellow agent who had been working for the bad guys. To make it worse, his fiancee had been sleeping with the man. So when he first meets Emily he's reluctant to believe her story, especially when he senses she's hiding something. When they are attacked after talking to another agent, Emily finally opens up about everything that had happened and what she heard. It isn't long before Reed discovers that what happened to Emily is connected to what had happened to him. Now he's determined to keep her safe, which means keeping her with him at all times. Emily's strength and independence are attractive to him and suddenly he's feeling things he's never felt before. He's not sure if he can trust himself since he was so wrong before. I loved seeing both of them realize how important it was to grab on to their feelings and take the chance for happiness.
The suspense part of the story was fantastic. With the rise in crimes that have to do with computers and finance, the premise of the story was quite believable. Emily's emotions during the kidnapping and her fear when she couldn't give them what they wanted was easy to feel as I read. What she went through to escape kept me turning the pages as I waited to see if she would be found by the good guys or the bad guys. From the time she and Reed were attacked on the road until the final confrontation I was on pins and needles. I could understand Reed's frustrations as they never knew who they could trust. I loved seeing his brothers, Luke and Nick, as they served as backup for Reed. The scene at the hospital, then again with the final takedown, show just how close the brothers are.