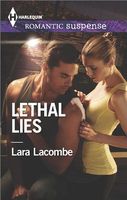 Trusting the man she loves could cost her her life
Putting her faith in someone who lies for a living isn't the safest thing Dr. Jillian Mahoney has ever done. But to stay alive, she has to believe the undercover agent -- who's kidnapped her to prove his innocence -- isn't a traitor to the FBI. And to help him, she must deny their intense attraction as they run from two vengeful killers.
Her captor, Alex Malcom, has lived a life of lies -- some worse than others. Still, there's one truth he's reluctant to disclose to Jillian, the woman of his dreams. One that could stop their relationship cold.
Good story with gripping suspense from the first chapter. Jillian is a doctor in a busy emergency room who has been on duty for three days. She's due three days off just as a bad snowstorm is about to hit the city. Thinking about what she needs to do as she walks to the subway station, she is startled when a man stops her to ask for help for his injured friend. Rather than bringing him into the hospital, the man kidnaps her to force her cooperation.
Alex is desperate to save the man with him, not because he's a friend but because he's the only person who can prove Alex's innocence. Alex has been working undercover with a gang for two years. There was supposed to be a sting that night, but instead the FBI and other agencies had been ambushed, and Alex is being blamed. He has to find out who in the FBI is the double agent and expose him, and Tony is his only link. Kidnapping Jillian is his only option.
Though she is terrified, Jillian keeps her head and is able to help Tony. She's not sure at first if she can trust Alex, even after he tells her who he is, but she's willing to give him the benefit of the doubt, especially when he saves her life. They have to work together to stay out of danger while at the same time trying to find out who was really behind the ambush. Added to that tension is the attraction they feel for each other, but must try to ignore to keep it from being a distraction.
I really liked Jillian and Alex. Jillian is a strong and independent woman, determined to do what she can to help people. She became an ER doctor because of her experiences trying to help her drug addicted brother when she was younger. I loved seeing the way her mind worked as she did what had to be done. She thinks well under pressure and that comes in handy during the course of the book. I liked that it didn't take her long to believe in Alex and his innocence. She is also very good at seeing the good in him, even when he is sure that he is beyond redemption because of the things he had to do. There is one point at the end where her trust is shaken, but a conversation with a very good friend shows her that she's not being fair to him.
I felt so bad for Alex. He had gone into the undercover op with idealistic fervor, but after two years he's become rather disillusioned. He no longer sees things in black and white, but he's still determined to do the job right. He's devastated by what happens with the raid, and stunned to find out that he's being blamed as a traitor. He's determined to find out who the real betrayer is and prove his own innocence. He's not happy about having to kidnap Jillian to gain her help, but does his best not to hurt her. I really loved seeing how careful he is. He's really attracted to her, but feels he's too damaged to be good for her. This is only reinforced when he discovers they have a connection that could destroy any chance they have. I liked the way he doesn't give up, even when things don't look too good. When he confesses that connection he's devastated by her reaction, but doesn't give up quite yet.
I really enjoyed the suspense. We find out early who the bad guy is and what his motivations are. The suspense comes in as Alex and Jillian have to stay safe as they endeavor to find the proof they need to get the guilty one behind bars. They have to stay ahead of both the FBI and its traitor and the gang that wants to kill them. I loved the descriptions of what they were doing and why, and the effect it should have if it goes right, and what will happen if they fail. The final confrontation is quite intense and had me completely sucked into the story.
I loved the setting. Being relatively familiar with DC it was fun to enjoy the familiar sights. I especially liked the accuracy of the descriptions of DC's reaction to snow.