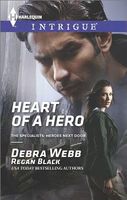 Series:
Specialists: Heroes Next Door
(Book 2)
Trapped with a madman…
Trail guide Charly Binali is alone in the Rockies with a madman and his armed mercenaries, and he's demanding she lead him to a powerful, hidden device. And when help comes in the unexpected form of her very hot neighborhood mailman, Charley discovers the "nice" guy she gave her heart to isn't who she thought.
Undercover CIA agent Will Chase hated lying to Charly, but getting to that dangerous device first is a matter of national security. It's seven bad guys against him and Charly, but between his training and her survival skills, they just might beat the odds -- if he can get her to ever trust him again.
Very good book. Will is the second operative to be assigned to a special, long term mission (
The Hunk Next Door
was the first). He is a former Navy SEAL, now working undercover as a mailman. He finds he likes the work, the town and the people. He likes local trail guide, Charly, even more and has been enjoying getting to know her. When he discovers that the party of hikers she's about to take out are wanted criminals, he knows she's in trouble.
Charly has lived in those mountains all her life and is an excellent tracker and woodsman. A few hours into the trip the leader of the group has killed her partner and tied her up. He is determined to get to the device he's looking for and nothing is going to stop him.
I loved Charly. She was incredible. When her partner was shot and killed she didn't panic, but kept her head and made plans to get away. She is confident in her abilities and it shows. Seeing her get away that first night showed just how good she really is. I loved her encounter with Will after he witnessed her escape and came to help her and get her help. Once she is convinced that he is who he says he is, she's as committed as he is to the mission. They work together like they've been doing it for years.
Will likes the job that he's doing, as it fits his solitary lifestyle. He's closed himself off emotionally ever since the death of his younger brother, who followed him into the military. His parents blamed him and he's been dealing with his grief on his own ever since. Since arriving in Durango he's gotten to know Charly pretty well and enjoys being with her. When he recognizes the man she's getting ready to take on the trail, it isn't just the mission he's thinking about as he prepares to follow her into the woods. When he found her, she had already gotten away on her own. One of the things I liked best about Will was how much he respected Charly's abilities and how he would follow her lead on certain things.
There was definitely some serious attraction between Charly and Will. Much of it was seen during their encounters in town. Once they were in the woods together, the intensity of what they were going through ramped up the heat. Charly was determined to follow through on it, sure it would be her only chance to experience something like that with Will. She doesn't have much confidence in her own appeal, and fully expects him to disappear when the mission is over. What Will feels for Charly is unlike anything he's experienced before. After everything they go through, both realize that life is too short not to pursue what they want. I loved the ending, even as Charly almost messed things up. The only thing missing was see if Will and his parents really do get together.
The suspense of the story was fantastic. You could see that the bad guy was going to be trouble from the beginning. His intensity was pretty scary, and just the idea of what he was after is pretty chilling. After Charly's escape, his actions just got worse. I enjoyed seeing the way that Charly and Will were able to evade them and also work on taking out some of the bad guys. The final confrontation was nerve wracking as power shifted from person to person. I loved seeing how it all went down.