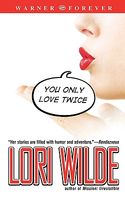 Comic-book heroine Angelina Avenger battles dastardly criminals and alien invasions. But her creator Marlie Montague's life isn't as exciting...until Marlie opens the front door and finds the business end of a pistol pointed right at her. Her plan: to channel Angelina fast! Recruiting her new next-door neighbor, who looks like a rock-hard action hero, couldn't hurt either...
The last thing Navy secret agent Joel Hunter expected on this surveillance gig was a luscious brunette bursting through his window. Now he and Marlie are blowing the doors off a full-blown conspiracy with more double agents than a Bond flick. But in between shootouts and squealing tires, the mystery that is Marlie is making Joel's heart go thump thump thump. Is she a femme fatale or an endearing bookworm? And how does she leave him both shaken and stirred?
Fun book. Marlie writes comic books for a living. She's pretty much a loner, living in her own world, until a knock on the door has her facing an assassin. She manages to escape, then goes for help to her next door neighbor. He just happens to be an ex-SEAL who is an NCIS agent assigned to watch her. Suddenly there's more at stake than just watching over her, and it's up to them to find out who wants to kill her and why.
Marlie is an interesting character. She keeps to herself and doesn't have a lot of friends. When she was a kid her Navy father was accused of treason and shot by his best friend. Since then she has trust issues. Her comic book heroine Angelina is her alter ego, someone with whom Marlie has frequent conversations. She also calls on Angelina when the situation calls for more than she thinks she is capable of herself. The conversations between the two of them are pretty funny.
Joel left the SEALs involuntarily due to some trouble during a mission he was on with his then wife. The things that happened have had him shutting himself off from his emotions. Now he is an NCIS agent assigned to watch Marlie. What little he knows of her has him thinking that this will be a slow assignment, as she seems to lead a boring life. That all changes when she breaks into his house looking for help. Suddenly the things he hasn't been told about his assignment take on new importance.
The relationship that grows between Joel and Marlie is one that tests both their issues. Thanks to the attacks on her, Marlie has to trust Joel to keep her safe. She's also attracted to him, but opening herself up that much is very hard for her to do. Joel is also attracted to Marlie, and finds that it's rapidly becoming more than just physical. He's fascinated with the multiple aspects of her personality, and he's fighting hard to keep his heart out of it. He also has some guilty feeling going on, because he's keeping two big secrets from her - why he was there in the first place, and the personal connection that they have. He just knows that's going to cause problems when it comes out. I loved seeing how they ended up balancing each other out, once they were able to overcome their fears.
The mystery part of the story is quite involved. The comics that Marlie writes deal with conspiracy theories, her way of dealing with the events of her childhood. When one of her comics hits a little too close to home, the man at the back of it is determined to shut her up. As she and Joel try to figure out which theory started the whole thing there are a whole bunch of people and connections that get involved. There are some pretty funny moments, including a flashmob involving bowling balls and Joel and a pair of handcuffs. The final showdown is pretty good with Marlie saving the day. There's also an interesting twist involving one of the players.