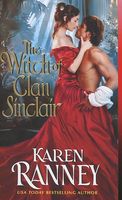 Series:
Clan Sinclair
(Book 2)
Logan Harrison is looking for a wife. As the Lord Provost of Edinburgh, he needs a conventional and diplomatic woman who will stand by his side and help further his political ambitions. He most certainly does not need Mairi Sinclair, the fiery, passionate, fiercely beautiful woman who tries to thwart him at every turn. But if she's so wrong for him, why can't he stop kissing her? He is completely bewitched.
Mairi Sinclair has never met anyone like Logan Harrison, the perfect example of everything she finds wrong with the world. He's also incredibly handsome, immensely popular, and impossible to resist. His kisses inflame her and awaken a passion she can barely control.
Can two people who are at such odds admit to a love that would bind them together for life?
Loved this book. Mairi is an independent woman who knows what she wants. Several years earlier she took over running the family newspaper, after her father's death. Her brother had no interest in it, but it has become Mairi's life. The biggest drawback for her is that she can't publish her articles under her own name, but uses her brother's instead. At the beginning of the book, she meets Logan as she attempts to enter an all-male gathering in pursuit of a story. She is furious when he doesn't support her right to be there, and the next day publishes an unflattering poem about him.
Logan's career as a politician is going well and he is considering the next step of running for Parliament. He figures that he will need a suitable wife to assist him, and has been considering the possibilities. Meeting Mairi puts a kink in those plans, as suddenly he can't think of anyone else. Her passionate view on issues has him looking at many things differently, and he is intrigued by her.
I loved the sparks that flew between Mairi and Logan from the moment they met. The attraction between them is hot, but there's more than just the physical. Mairi challenges Logan to look beyond the current attitude toward women and see them as intelligent, capable beings and then to do something about it. Meanwhile, Logan has Mairi seeing the world outside her newspaper, and that people are more than just sources or subjects of stories.
Mairi had a romance that ended badly in her past, which has affected her attitude toward marriage and love. She sees them as a prison that forces women to lose their independence and become accessories to their husband's lives. Her time with Logan has her resisting the feelings that she is developing for him, fearing that if she gives in she will lose all that she has worked to achieve.
I loved Logan's delight in Mairi's passion and intelligence. It was fun to see the way that the things she is so passionate about make him think about what she is fighting for. He gets a point of view he'd never had before and changes the way he looks at some things. I also enjoyed the way he knew just how to push her buttons. The scene where she questions what's under his kilt was lots of fun and had me laughing out loud. I also loved the way that he understood her and supported her. He was not going to allow her to push him away. I loved his big moment at the end and how it showed just how much he loved her.
Throughout the story there is also someone who is trying to sabotage Mairi's plans. There are hints and revelations that move closer to exposure, with a couple interesting twists to the final resolution.
I enjoyed the secondary characters and their parts in the story. All of them were integral to the plot, not just there to take up space. I enjoyed the romance between Allan and Fenella, but also liked how well both of them knew Mairi. I especially liked Fenella's explanation of love to her. I also liked seeing Macrath and Virginia again. I loved his support of Mairi and what she wants to do. He's a bit on the protective side, and I enjoyed seeing Mairi call him on it. I liked how he admits the changes that love has made to his life.