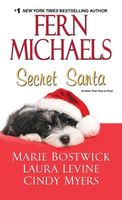 Mister Christmas by Fern Michaels
A week before Christmas, attorney Claire O'Brien is summoned to Ireland to change her wealthy client's will--only to encounter resistance from his handsome nephew. Will Claire be forced to spend the holidays up close and personal with her irresistible Irish nemesis?
Enjoyable story, though because of its length the events were rather rushed. Claire is a lawyer for a big firm in California. The week before Christmas she gets a call from one of her biggest clients. He says he is dying and needs her to come to Ireland immediately to make changes to his will. She suspects that he is lying, but postpones her plans to be with her family for the holiday and rushes off to Ireland. There she discovers that he is perfectly healthy, but is attempting to engineer a relationship between her and his nephew Quinn. In spite of her immediate attraction to him, she is furious and determined to leave immediately.
Though their initial meeting was a bit rocky, I enjoyed seeing Claire and Quinn together. When Claire arrived she was tired, jet lagged, and pretty pissed off about what she discovered. Quinn's behavior was a bit on the silly side, using his sense of humor to jerk her chain a bit. But he completely agrees with Claire's feelings about what has been done to them both. He goes out of his way to help Claire make it back to her family for the holidays. Spending all that time together as they return to the States, has a quick connection developing between them. They spend that time getting to know each other.
Quinn takes care of Claire, doing all kinds of things to make her trip go easier. He also gets involved in helping a young woman that she met on the plane going to Ireland, making Claire realize just how nice a guy he is. They fall for each other quite quickly.
There were some funny moments and some really sweet ones. Claire's fear of flying gets her in some trouble involving alcohol and some wardrobe issues. The whole airport scene is pretty funny. Later on, Quinn's innate kindness shows as he helps Claire make a huge difference in the young woman's life. There's also an encounter with danger that has them realizing what is important in life.
This story is connected to stories in previous holiday anthologies, making it possible to check in on those other characters and see how they are doing.
The Yellow Rose of Christmas by Marie Bostwick
Though Miss Velvet Tudmore wrote off romance years ago, rumour has it she has a secret admirer. And when her surprise suitor promises to reveal himself at the annual Christmas ball in Too Much, Texas, Velvet starts to wonder: is it ever too late to find love?
Velvet is sixty-four and has never been in any kind of relationship. She doesn't have a very high opinion of the men in her small town. She runs the local historical society and prides herself on her ability to pass on the history of their town. When a new history teacher is hired for the high school, she is smitten by the handsome and intelligent Thaddeus Delacorte.
Shortly after his arrival, she begins receiving a yellow rose a day from an unknown source. Convinced that Mr. Delacorte is her secret admirer, Velvet begins to take more interest in her appearance and makes changes that surprise everyone in town. When her admirer promises to reveal himself at the ball, Velvet has high hopes for a happy outcome.
I liked seeing the changes that Velvet made. She started out as pretty uptight, definitely the epitome of the old maid. It was amazing to see what a difference a bit of attention made to the way she saw herself. I loved seeing the new confidence she had in herself.
The Christmas Ball was excellent and I loved seeing what happened with Velvet and the yellow roses. It was all very sweet. Even better was the day after the ball and the visitor that Velvet had.
Nightmare on Elf Street by Laura Levine
Aside from the mortifying costume, how bad can a gig as a mall Santa's elf be? Jaine Austen finds out when she's teamed up with the Santa from Hell. But things go from bad to worse when he's found murdered on the job--and Jaine is a suspect. Now all she wants for Christmas is to find the real killer...
Story of Jaine as she works as a mall elf in order to get an advertising job for the same mall. One of the Santas is a sweet older man and one is a young, out of work actor with a majorly bad attitude. Scotty hates kids, flirts with the good looking moms and nannies, drinks tequila like it's water, and bad mouths everyone. So it's no real surprise when he ends up dead.
Jaine is an amateur sleuth and sets to work trying to figure out who the murderer is. She works her way through all the people who have reason to want him dead, including herself, until she stumbles on the guilty party.
This story reminded me of Stephanie Plum, but not nearly as much fun. Not sure why it was included in this anthology other than the Christmas theme, as the others are romances.
Room at the Inn by Cindy Myers
When a Rocky Mountain blizzard forces Barb and her husband to spend Christmas in a remote Colorado cabin with their fellow travelers, Barb struggles to cope - especially when her husband reveals troubling news. But sometimes a holiday shake-up is all a woman needs to discover what she's truly made of..
Good story. Not so much a romance as Barb and Jim reconnecting. On a trip to Colorado to spend Christmas with friends, they are caught in a blizzard that closes the roads. Along with several other travelers, they are taken to some fishing cabins to wait out the storm.
Barb starts out as kind of whiny. They're stuck in a cabin instead of being with their friends. All she can really think about it what she is missing. She's a bit frustrated with her husband who seems to be taking it all in stride. It gets worse when he breaks the news that he's quit his well paying job to start a business with their college dropout son. She's upset that he didn't discuss it with her first, and can't help thinking about the changes it will mean.
Barb also can't help being a bit jealous that Jim has had this dream and is now pursuing it. She doesn't have anything like that in her life. She grew up poor, determined to make a better life, which she did by marrying well. She has spent her life trying to be the perfect wife and mother, But doesn't see where anything she has done has made things better for anyone.
While stuck in the cabin, Barb finds herself making friends with the owner of the cabins, and getting to know the other travelers. Her ability to talk to people brings them together to help make a better Christmas for them all. In the process, she learns more about herself and what she really can do.