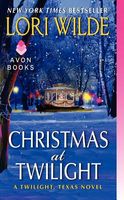 Series:
Twilight Texas
(Book 8)
It's Christmas in Twilight, Texas. The Cookie Club is baking, the town is decorated, and Delta Force Operator "Hutch" Hutchinson has finally, reluctantly, returned home . . .
. . . only to get pepper sprayed by the delicious- looking stranger who's taken over his house. She says her name is Jane, and she immediately sets down ground rules. Top priority: no touching. For Hutch that isn't easy -- he was wounded in action, but one part is still working very well.
Then Hutch learns the truth. Jane harbors a frightening secret -- she's really Meredith Sommers, on the run from a dangerous ex-husband and desperately in need of the safety Hutch can provide. In that moment, he vows he'd do anything in his power to protect her. And as Christmas approaches, they discover that their love can conquer the past and overcome any obstacle -- but what price will they pay?
Very good book, full of love, loss, hope and fear. Hutch is unwillingly headed home to Twilight because injuries he received during the war have made it impossible to stay in the army. He left the hospital, unable to speak and bearing guilty feelings over being the only one in his group to survive the attack. He's told that his inability to speak is psychological, not physical. He arrives home to find his sister is missing and the other woman in his house sprays him with pepper spray.
Meredith panicked when she saw Hutch. It wasn't a clear view and she thought he was her ex-husband. Meredith and her son have been on the run from him for five years. She has been in Twilight for two months, sharing the house with Hutch's sister Ashley. A week before Hutch's arrival, Ashley called Meredith to tell her she was going to Mexico with the new man she met, and asked Meredith to take care of her daughter Kimmie. Meredith is afraid that something has happened to Ashley when she doesn't return her calls.
Though their initial meeting is rough, Meredith and Hutch come to an agreement. Meredith and her son will stay in order to help Hutch care for his niece. Hutch will help her give the kids as normal a Christmas as they can manage. Meredith is wary around him at first, thanks to lessons learned from her violent ex. She lays down some ground rules, which include no touching. That's a little tough for Hutch, because he's really attracted to her, but something tells him he needs to be careful. Hutch is himself still dealing with his own issues. He is frustrated by his inability to speak and wonders if he'll ever get back to normal.
I loved seeing the way that Hutch and Meredith connected so quickly. She's wary, but she quickly sees that there's a kind and gentle man behind the scars and frustration. Hutch also sees that there is something behind Meredith's wariness, but that it will take trust for her to confide in him. Once she does, Hutch is determined to protect her. The connection between them grows stronger as they work together to take care of the two children. It isn't all perfect, as Hutch has a setback that feeds her fears, but with help they overcome it. I liked seeing Hutch reconnect with his friends who are also vets, and how that sets him on the path to healing. A breakthrough on Christmas Day opens a new connection between Hutch and Meredith and things are really looking good for them.
But Meredith's past is still hanging over her, and Hutch is determined to make things right. Hutch's sister is also still missing, and their worry grows the longer she is gone. Her return and Meredith's past collide in a way that had me riveted for the last couple chapters. There are several twists during this point that had me wondering just how it was going to turn out. Meredith's strength of will really shines here, as does Hutch's. While it isn't an "all's well" ending, it is realistic and satisfying.
As always, the town of Twilight works its magic. Meredith has been made to feel welcome and a part of everything. I loved seeing how the ladies encouraged her to come to the cookie exchange, and how being there gave her more insight into who Hutch is. I also loved seeing the support that Hutch is given, as his friends are ready to help him as soon as he's ready to accept it.