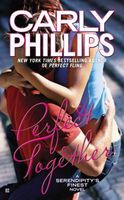 Series:
Serendipity's Finest
(Book 3)
Tired of being the easygoing daughter, always ignored in favor of her high-maintenance sister, and no longer interested in being her fiancé's trophy wife, Nicole Farnsworth calls off her wedding. All she wants is to be herself. And where better to find her destiny than Serendipity? The place where she met the one man who made her heart beat faster, and gave her the courage to reinvent her life -- even if he doesn't know it.
Officer Sam Marsden calls Serendipity home and he loves it there -- even though his childhood sweetheart was stolen by his best friend. After such heartbreak, Sam fears he can't trust his instincts when it comes to love. Yet he's so tempted by Nicole, a woman he met only briefly but who has starred in his dreams ever since. For Nicole and Sam, opening their hearts one more time could change their lives forever. But who'll be the first to take that chance?
Wonderful conclusion to the Serendipity's Finest series. Nicole has come to Serendipity to make a new start to her life. She isn't too sure of her reception, as her twin sister, who has mental health issues, was arrested for stalking another character in
Perfect Fling
. But she liked the town, and she especially liked the cop she had dealings with.
Sam is the youngest of his siblings and the only one unmarried. He has sworn off relationships after being left at the altar when his fiancee ran off with his best friend. He no longer trusts his instincts when it comes to people he can trust. He was attracted to Nicole when she came to find her sister, but when she went back to Manhattan he figured that was the end of it. He hasn't been able to forget her, and when she returns to Serendipity the attraction continues to grow.
I loved Sam and Nicole together. The chemistry was hot and their love scenes were pretty steamy. But more than that, they understood each other, though both had some issues they needed to overcome. Because Sam had been burned by his ex-fiancee, finding out that Nicole had just broken off her engagement made him wonder if Nicole was just like his ex. It made him wary of trusting her and reluctant to risk his heart again. After she met Sam in the previous book, and experienced the feelings he roused in her, Nicole realized that she couldn't go through with her engagement. She and Tyler were more like friends than lovers and she didn't want a loveless marriage. She has also spent her life trying to get the approval of her parents and having realized that it isn't happening is determined to make a new life for herself. Sam and Nicole find it easy to admit their attraction and decide to pursue a no strings relationship, insisting that they have no wish for messy emotions to get involved. Of course, that doesn't last, but neither knows quite what to do to change things.
When Nicole broke off her engagement, she also overheard her ex's father talking about some illegal activity he has engaged in. She's not sure what to do with that information. When Tyler comes to Serendipity to attempt to win her back, she isn't sure of his motivation or if he's involved in it. The possibility of danger to Nicole brings Sam and Tyler together to ensure her safety.
Nicole tries to make Tyler understand that he has no chance, and discovers that Tyler's arrival has sparked a very possessive attitude in Sam. She has fallen for him, but believes that he is still intent on a short term relationship. She wants the love she finally feels that she deserves. Sam is still fighting his feelings and trying to protect his heart. A conversation with his mother and one with his brother Mike, makes him realize his mistake and that he's in danger of losing the best thing that ever happened to him.
I loved the setting of Serendipity and what it meant for Nicole. Coming from a cold, emotionless family she is sometimes overwhelmed by what she finds there. She makes a good friend in Macy, who also puts her on the path to fulfilling her dream of owning her own bakery. I loved Nicole's meeting with Macy's Aunt Lulu and the part it played in Nicole realizing her dream. I also loved seeing the way that Sam's family embraced Nicole, in spite of her connection to Victoria. This gave Nicole a view of a family dynamic she had never experienced for herself. I loved Macy and really enjoyed the way she stepped in to deal with Tyler. They were fun together and I'd enjoy seeing a novella dealing with what is developing between them.