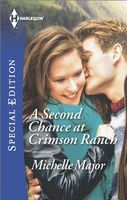 Series:
Crimson CO
(Book 2)
GOOD WITH HIS HANDS, BAD FOR HER HEART…
Ever since her marriage went up in flames, Olivia Wilder hasn't had the desire for love. But one magical dance with Logan Travers might change all that. The blue-eyed hometown hunk is a bit younger and a whole lot sexier than any man she's ever dated before. This is one carpenter Olivia would like to get to know better, and not just because of his building skills…
From his first dance with Olivia, Logan knows there's something special about the beautiful brunette. The more she's determined to keep him at arm's length, the more Logan wants her in his embrace. And the more Olivia says she's just passing through, the more resolved Logan is to make her his, forever.
Sweet romance, but also steamy and emotional. Olivia is trying to get her life back together. She had been married to the mayor of Crimson until he cleaned out their bank accounts and ran off with his secretary. She's been left dealing with the fallout and it hasn't been pleasant. But she likes the town of Crimson and would really like to stay. Her friends are also trying to convince her that she needs a new man in her life, but that's the last thing she wants right now. That is, until she has a dance with Logan at her friend Sara's wedding. There's an instant attraction between the two of them that she doesn't know what to do about. Logan is six years younger than she is and a whole lot sexier than anyone she's ever been with before.
Logan came back to Crimson for his brother's wedding, but he has no intention of staying for long. There are way too many bad memories associated with the town. His father had been wildly abusive to him and his siblings, and after his two older brothers left, it only got worse for him and his twin sister. The coped by acting wild and out of control, and then his sister died in a car accident. Logan blamed himself and became even wilder, until one event made him realize he was headed for worse trouble. He left Crimson and didn't come back until now. He has turned his life around and has a successful job in construction. He gets talked into dancing with Olivia at the wedding and is surprised by the attraction he feels for her, especially since she claims she's not interested.
Olivia has taken on the project of trying to get the Crimson community center's renovation completed. It has come to a halt because of the actions of her ex-husband and she doesn't want that to happen. As the current contractor is married to the woman her ex ran off with, he's not interested in helping. When Olivia finds out that Logan is qualified, she begs for his help. Now they are spending a lot of time together and that attraction they feel is getting stronger.
I loved seeing Olivia and Logan together. He doesn't care about the age difference. He simply sees an awesome woman that he's attracted to. He also sees the the grief she's been getting because of her ex and does his best to show her that she is not responsible for his actions. He also shows her that she is an attractive, sexy woman that he enjoys being with, even though he feels that he's no good for her. At the same time, Olivia gets to know Logan for who he is now. She didn't know him when he was a troubled teen, so those times make no difference to her. She tries to show him that it's who he is now that's important. After awhile, the age difference starts to be of less importance to her also. But Logan is still determined to leave when his work is done, even though he finally admits that he has fallen in love with Olivia.
I really wondered how things were going to work out for them, with the way Logan was determined to leave and Olivia loving her new life in Crimson. Things got really rough for Olivia when her ex came back to town and started making trouble for her at the opening of the community center. I really loved the way Olivia had changed so much from the woman he had known, and what she did to him at the opening. That was then followed by Logan's big moment, making for the perfect ending to the book.
*copy received in exchange for honest review.