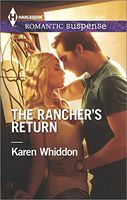 Series:
Anniversary Texas
(Book 4)
In the small town of Anniversary, Texas, pure evil will find you...
The night rancher Reed Westbrook makes love to Kaitlyn Nuhn, his life ends. While in the throes of passion, his brother is murdered...and Reed becomes the prime suspect. When Kaitlyn, his solid alibi, vanishes, Reed goes straight to prison and becomes a scourge of the town.
Finally released, Reed lives under the radar, until Kaitlyn reappears claiming she was held prisoner by the real murderer, a man so powerful he's virtually untouchable. This killer will stop at nothing to eliminate Kaitlyn, and only Reed can protect her. The electrifying attraction that drove him to near-madness is still as powerful as ever. And the walls he's built around his heart are in danger of crumbling.
Good book with plenty of action as well as romance. Three years earlier, Reed had given in to the attraction between himself and Kaitlyn. While he was asleep, his brother was murdered and Kaitlyn disappeared. Reed is sent to prison for his brother's murder when his only alibi, Kaitlyn, can't be found.
Three years later, Reed has been released on appeal, due to the lack of evidence that he did the crime. Most of the townspeople still think he did it and treat him accordingly. One of the local deputies is constantly harassing him. Reed does his best just to stay out of everyone's way. The last person he expects to see at his door is Kaiitlyn.
Kaitlyn shows up at Reed's to tell him she knows he's innocent but can't stay around to prove it. She claims she witnessed the murder and has been held captive ever since by the man who did it. She knows that he will not give up trying to find her because of what she knows, so she is going on the run. Reed convinces her to stay, and that he will protect her until they can bring the killer down.
I liked both Reed and Kaitlyn. Reed is honest about the effect that being in prison had on him, and the changes it made in the way he looks at things. He is disbelieving on Kaitlyn's story until she shows him the scars she bears because of it. After spending three years hating her for disappearing, it takes him a little bit to readjust his thinking. One thing that didn't change was his attraction to her, which is just as strong as it was. I liked Kaitlyn's strength of will. To have gone through what she did, and still have the ability to get away was amazing. I liked her sense of fairness that made her come to Reed and tell him what had happened. Her fears about staying around were real, as she knew exactly what the killer was capable of, but she came to trust that Reed would protect her. The danger they were in increased the intensity of their emotions, and each realized they were in love with the other. But both of them had to be willing to take a risk and confess their feelings. I loved the ending and seeing the two of them open up.
The suspense of the story was good. We know who the bad guy is early on. The suspense is in how Kaitlyn and Reed can avoid being caught and killed. There are several places where it gets very intense, when it is unknown who is a good guy and who is working for the bad guy. I loved Kaitlyn's strength and ingenuity as she managed her second escape. Reed also had his chance to help with taking the bad guy down and pulled it off quite well. The ending confrontation had me riveted until it was done, as I waited to see how it turned out.