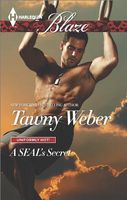 Series:
Sexy SEALs
(Book 7)
Subject: Lt. Commander Mitch "Irish" Donovan
His Mission: Babysit a fitness queen with a hands-on approach!
Navy SEAL Mitch Donovan always plays to win. The push-up contest at the Halloween party should have been a piece of cake. Except that the cake in question is a hot woman dressed as a delicious dessert. Now the only exercise on Mitch's mind is restraint…
Livi Kane may be The Body Babe, but she has zero confidence. This hunky SEAL, however, makes her forget everything -- except for a workout involving his hot, naked bod and a whole lot of sexy, sweaty delight. But Mitch has his secrets -- and Livi certainly has hers. All it will take is one unexpected encounter to turn this steamy attraction into an even bigger secret that will start showing any day now…
Good book. I really liked both Livi and Mitch and enjoyed seeing how their relationship progressed. Livi is a fitness guru known as the Body Babe. She has a successful career that she rebuilt from the ashes of her old one after her ex-husband ruined it all. She projects great confidence when she's working, but outside of work she is very shy and tries to avoid notice. Though she isn't interested in marrying again, she'd really like to spend some quality time with a sexy guy. Mitch certainly fits the bill.
Mitch is a Navy SEAL who is dedicated to his career. He's worked very hard and has moved up in the ranks quickly by avoiding distractions. That ability to focus goes out the window when he meets Livi. From the moment they start their push-up contest he is fascinated by her. I loved the contest itself and the mind games that Livi used. When it ends in a tie, Mitch gets to claim and kiss and owes Livi a date.
I really enjoyed the way the relationship built. As an active duty SEAL, Mitch's life is not his own and relationships can be hard to maintain. After that steamy kiss they exchanged, Mitch was off and away and unable to pay up on the date right away. However, he does manage to get in a few phone calls that really build the heat between them. By the time he gets back to California it's almost Christmas and the anticipation is off the charts. Livi is well aware of what his career demands and accepts the restrictions it causes. Though neither one had anything permanent in mind when it started, feelings start to grow and change. But both have obstacles to overcome. Mitch's career has progressed as it has because he's focused on it to the exclusion of all else. There were a couple great scenes showing just how big a distraction Livi is. Suddenly he's got a conflict for his attention and he's getting pressure from outside to dump Livi and return to his old ways. But where does he really want his career to go, and is it possible to have both? Meanwhile, Livi's manager/mother has made all kinds of plans for a new direction for Livi's business without listening to Livi's requirements. And Livi has one big one that is really going to change things. Has Livi finally gained the confidence to stand up to her mom and go after what she wants?
Both Livi and Mitch undergo some real changes during the course of the book. Although Livi still has to deal with her fears of being center stage, when she's with Mitch she feels like a different person. I liked the way that she was working to overcome her shyness, and that it's Mitch's confidence in her that helps her do it. I got a bit irritated with Mitch toward the end of the book when it looked like he was going to cave in to his grandfather's demands. For all the confidence that he appears to have, he spent a lot of time worrying about what other people thought of him and his actions. I loved the conversation he had with his father and the difference it made to his whole way of thinking. There were some blunt truths in that conversation, but also a couple funny bits.
There are some secondary characters that have great influence over Mitch and Livi. First are their two best friends, Gabriel (aka "Romeo") and Tessa. Those two strike sparks from the start and Mitch and Livi are the ones who get caught in the crossfire. I'm really looking forward to reading more about them. Mitch's family has a lot of influence over him and it's something he has to deal with. His mother's efforts to marry him off were pretty amusing, but it was his grandfather who was really the one who leaned on him the most. I completely agreed with Mitch's father's description of the man. And finally there was Livi's mother. She really bugged me with her steamroller tactics and attitude toward Livi. However, she really did step up and the end and was there when Livi needed her.