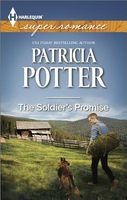 Series:
Home to Covenant Falls
(Book 1)
Here today, gone tomorrow?
When former army ranger Josh Manning comes to close-knit Covenant Falls, he knows he won't be staying long. As soon as he's renovated the cabin he's inherited from a late fellow soldier, he and his ex-military dog, Amos, are getting out fast. That is, until Mayor Eve Douglas drops by.
Eve, a young widow, has a precocious son and a band of misfit pets. Definitely not his type. Besides, she deserves much more than he can give. Unless, against all his instincts, he's ready to make one more promise.
Good story of love and healing. Josh came to Covenant Falls after he inherited a cabin from a fellow soldier who was killed in Afghanistan. Josh also has custody of his friend's military working dog, who is grieving too. Since he has no idea what to do with himself now that he's out of the army, Josh decides to stay and fix up the cabin while he thinks about the future.
Josh had had no idea what moving to a small town would be like. All he wants is to be left alone, to deal with his injuries and his nightmares in his own way. When he's awakened from a nightmare by yet another person stopping by to welcome him, he is less than gracious. He decides the best thing he can do is finish the repairs, sell and get away someplace where he can be alone.
Rumors about the new resident have Eve Douglas, mayor of the town, stopping by to check him out for herself. She is a widow with a ten year old son and plenty of responsibilities. But there's something about Josh that she can't resist, and it's not just the physical attraction.
I liked both Eve and Josh. Josh is hurting from the loss of his friend and most of his team. He's also worried about his dog, Amos, who doesn't seem to be getting any better. His visit from Eve was something of a wakeup call, making him realize that he has been behaving very badly. I loved watching him start to make amends - his visit with Mrs. Byars was very sweet. Another thing that woke up were feelings that he hadn't had in quite awhile, but Eve was not the right person to have them for. He doesn't do relationships, especially now when he's so messed up. But there's something about Eve and her entire family that soothes his soul and fills a void, and he finds himself wishing that things could be different.
Eve is also still hurting from the death of her husband. She's made a good life for her and her son and that's enough for her, until Josh awakens feelings that have been buried for a long time. In spite of her reluctance to get involved, she can't help but want to help him through his pain. I loved seeing her encourage him to get involved, but also give him the space he needs when he starts feeling overwhelmed. I really liked seeing her overcome her fear of risking her heart again as she and Josh get closer together.
I really liked the inclusion of Amos, Josh's dog. It was a good way to show how important the working dogs are to the military, and that they are also living creatures who suffer too. I loved Josh's determination to help Amos, and how much it hurt him to see the dog's unhappiness. I loved Eve's son's part in Amos's healing, and how it seemed to parallel Josh's own recovery.
Eve's son Nick is also a great character. He's a pretty realistic kid of his age, with his own challenges. I loved his interactions with Josh, especially the one where he visited Josh without telling his mom. His actions were typical, but he also understood his wrongdoing when it was pointed out. There's a pretty intense section dealing with Nick, a rattler and Amos, that serves to bring Josh and Eve closer together.
The concurrent story of Eve's battle with a member of the town council was really good, It was easy to see that Eve had the best interests of the town at heart. The rash of robberies were very worrying, especially with the current police chief wanting to retire and a less than qualified applicant wanting the job. Eve's worry over Josh being blamed was justified, especially when that one deputy was really pushing his guilt. I thought Josh handled things very well, especially when things went really bad at the end.
The ending was quite satisfying and felt very real. While neither Josh nor Amos were completely healed, they were well on the way. I'd like to see more books in Covenant Falls so we can follow up on the town and its occupants.