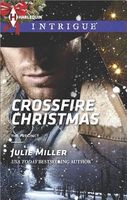 Series:
Precinct
(Book 23)
With his life bleeding out from bullet wounds and a car crash, Charles Nash's best option is to kidnap the innocent nurse who stops to help him. At gunpoint, the jaded DEA undercover agent offers Teresa Rodriguez a desperate deal: if she keeps him alive long enough to find out who's blown his cover and set him up to die, she'll be home for Christmas.

As the two go on the run from an unknown killer, the Good Samaritan gives Nash a bad case of unprofessional desire. He's drawn to the sexy little spitfire for her bravery, boldness and attitude. But how can he count on kissing her under the mistletoe when so many enemies are working to ensure they don't make it to the holidays?
Fantastic entry into the Precinct series, with plenty of action, suspense and romance. It starts in a rush with Nash and his contact ambushed by the bad guys. Nash is wounded in the leg and shoulder, while his contact is killed. Nash barely escapes with his life and is bleeding badly as he drives away in a snowstorm. Nash is from Houston, a place that doesn't see much snow, and on a back road spins out and crashes his truck.
Teresa is a pediatric nurse at the local hospital and loves working with "her kids". She is also the youngest of five kids, and suffers from very overprotective older siblings. She would really like them to see her for the competent adult that she is. On her way home she comes across Nash's wrecked truck and stops to see if he's alright. Terrified when she's confronted by what appears to be a desperate criminal with a gun, she takes him back to her apartment to fix him up. It's at this point that Teresa's natural sass starts to come back.
I really loved both Teresa and Nash. As the youngest in her family, Teresa learned early how not to be intimidated, and that comes in really handy when trying to take care of Nash. Once she got over her initial fear, I almost got the feeling she was simply humoring him so she could take care of him faster. The scene at the apartment the next morning, when he wakes up and she isn't where he left her, was pretty funny. I also loved her resourcefulness in her actions, even though one of those actions put them in more danger. Once she knows who he is and understands the danger, she's all in to help him. There's also a strong attraction that she tries to fight, since she knows he won't be staying around, but that's pretty much a losing battle. Besides the attraction she feels, she also falls for the man she sees under the undercover agent shell.
Nash had left Houston to get away from the cartel members until he could get his undercover identity replaced. Two of his undercover team members had already been killed, and now his contact. The only explanation is that there's someone in his office working for the bad guys, and he wants to find out who. Bleeding to death before he does is not an option, and when the Good Samaritan who stops to help turns out to be a nurse, he makes a desperate decision. He's not happy about scaring her so badly, but he can't risk her calling the authorities. When she turns out to be stronger of will than he expected he makes his deal with her, and hopes he can keep her safe long enough to follow through. He doesn't expect that sass and the compassion that comes with it, to fire up an attraction he shouldn't be feeling.
I loved the two of them together. Teresa isn't going to let Nash get away with treating her like a hostage instead of a partner. She has no trouble standing up to him and making him see that she can help. One of the things that made her fall for him is that he treats her like an adult, not like the kid sister her family does. It's also fun to see her bully him into letting her take care of him when he needs it. Nash has quite a time of it right from the beginning, since Teresa isn't exactly docile. He seems to spend a lot of time readjusting his opinion about her. Nash has been on his own for a long time and his feelings for Teresa take him by surprise, but he doesn't deny them. He also doesn't think he's anywhere near good enough for her. Teresa, of course, thinks differently.
The suspense of the story was fantastic. The ambush is a great opening, and the action never really let up. Nash's cover being blown was bad, but knowing that his other team members were killed because of the same thing, made him realize that there was a mole in his office. Unfortunately, he had no idea who, which meant he couldn't ask for help. He was also in a strange city, which added more stress to his situation. Teresa's innocent email inquiry set off a chain of events that puts them in more danger. Their teamwork was great, and some of their situations were pretty tricky. I loved Teresa's ingenuity in getting help for Nash, and the little girl who got into the act was adorable. The final confrontation was really intense, and I never guessed the identity of the mole.
Though there wasn't a lot of KCPD presence in the book, what was there was great. I liked seeing Jake again and the part he played in helping Nash. Some of the best parts involved Teresa's brother AJ, and her efforts to keep him in the dark. He did come through for Nash when it was most important. There was also a nice little tip of the hat to Julie Miller's first books, the LadyTech series, with a mention of Isla Tenebrosa.
Out of the whole book, though, Teresa has the best line when everything is over: "Seriously, Nash? You need to stop getting shot. You should just ask me out on a date."