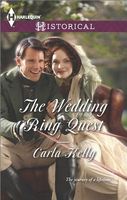 Searching for a ring…finding a family!
Penniless Mary Rennie knows she's lucky to have a home with relatives in Edinburgh, but she does crave more excitement in her life. So when her cousin's ring is lost in one of several fruitcakes heading around the country as gifts, Mary seizes the chance for adventure.
When widowed captain Ross Rennie and his son meet Mary in a coaching inn, they take her under their wing. After years of battling Napoleon, Ross's soul is war weary, but Mary's warmth and humor touch him deep inside. Soon, he's in the most heart-stopping situation of his life -- considering a wedding-ring quest of his own!
Good story that involves a journey, both physical and emotional for the hero and heroine. Mary was taken in by relatives when she was young and has a good, if dull, life with them. When her spoiled cousin throws her fiance's ring into a fruitcake batter and ends up in one of the cakes sent out as gifts, Mary is the one sent to find it. She looks on the trip as the only sort of adventure she'll ever have.
Ross is home on leave and taking the opportunity to reconnect with his ten year old son. With Napoleon on Elba, it's thought that the war is over, but Ross is not so trusting. After so many years at sea and at war, he finds himself tired of the fight, but uncomfortable on land. When he and Nathan meet Mary at an inn, he is intrigued by her and her quest. Discovering that they are related, however distantly, gives him the excuse to offer his assistance.
I liked both Mary and Ross, though he certainly gave me moments of frustration throughout the book. Mary learned quite a lot about herself over the course of her search. By the time she had met up with Ross, she had realized that her life in Edinburgh was merely existence and she wanted more. She just wasn't sure how to go about it. I liked the way that she was pretty unflappable. The innkeeper's mistake that introduced her to Ross and Nathan didn't faze her, and her invitation to join her showed remarkable poise. Though initially reluctant to accept his involvement in her search, she soon agreed. I really liked how easily she was able to talk to Ross and the bond she formed with Nathan. She also understood him when his memories would send him into a funk and was able to bring him out of them. I also liked that she accepts his peg leg as part of who he is. As they make their way through the search, Mary tries to fight the feelings she's beginning to have for him. She knows that she's not what he wants, and that he isn't ready anyway.
Ross was a very complex character. He is pretty much married to the navy, having spent twenty-four years at sea so far. He's had few shore leaves, and uses them to spend time with his son. They have an excellent relationship in spite of his absences. He has seen a lot of death and destruction over the years, including the loss of his leg. It has left him rather cynical, and he is certain that the war with Napoleon is not over. He has a rather unique perspective on the effects of the war, and frequently refers to Napoleon as his "employer", something that gets him into trouble at one point in the book. He is drawn to Mary from the very beginning, but doesn't quite understand why, as she is nothing like the women who usually interest him. He even has a list of what he will eventually look for, once war is done and he starts looking for a wife. As the three of them travel together, we get a better look at Ross and see a man with a sense of humor and great capacity for love, but is also haunted by fears and insecurities.
Their journey together brings changes to them both. They combine Mary's search for the ring with an amusing yet moving tribute to some of Ross's shipmates involving inns and favorite foods. One of those stops has Mary encouraging Ross to visit the parents of one of his lost crew members. This is a very emotional section, and Mary's support is vital to Ross's ability to get through it. Ross starts to see Mary more as a woman and having qualities he should add to his "list". Mary's feelings have grown stronger for Ross, though she knows he doesn't feel the same way. Those feelings make her realize she can't go back to her old way of life and gets her thinking about what to do with her future without him in it.
When they come to the end of their journey and the retrieval of the final fruitcake, something happens that sets off an unreasonable anger in Ross. He says some terrible things to Mary, which sends her brokenhearted back to Edinburgh, and damages his relationship with his son. It takes days for him to realize what he has done, and his self examination has him contemplating his own worth. Meanwhile, Mary has had an epiphany of her own and has started making plans for her future. It takes a determined ten year old boy to make them see that their futures belong together. I enjoyed seeing how it was managed, though I wouldn't have minded a little more grovelling on Ross's part. I liked their plans for a new life, and would have enjoyed an epilogue to see how it goes.
My only gripe with the book as nothing to do with the story, but with the cover. It is entirely wrong for the book. The hero is described as a mature naval officer with a wooden leg. He is always in uniform. The majority of the book takes place during the winter, frequently in the snow. By necessity, they travel in a closed carriage. So why does the cover show a summer scene, in an open carriage, with a youngish looking man in civilian clothing, who obviously has two good legs? Did Harlequin's art department even bother to check the details of the story?