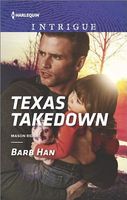 Series:
Mason Ridge
(Book 2)
He's facing trouble as big -- and unpredictable -- as the Texas terrain
For security expert Dylan Jacobs, his little daughter is a light against the shadows of his past. But when the sexy ex-soldier locates missing Samantha Turner, the shadows return. Samantha is convinced their childhood nemesis -- the Mason Ridge Abductor -- is back. And that he's hunting her.
Amid a hail of gunfire, Dylan commits to keeping Samantha safe -- then nearly crumbles when his own child disappears. So when the villain poses a vicious ultimatum -- turn over the woman he loves or never see his beloved toddler again -- Dylan knows what he has to do. Put plan B into action.
Good book with some pretty intense action. Dylan is asked by a friend to find Samantha, a mutual friend who is missing. When he does, he discovers that Samantha has been in hiding, terrified that the Mason Ridge Abductor is after her, even though the man believed to be the Abductor is dead. When they are attacked, Dylan has to agree that something is going on.
Dylan has a lot going on in his life, the biggest of which is caring for his toddler daughter. He had only found out about her the year before, just before Maribel's mother died. He's dealing with a lot of guilt over the fact that she had believed that Dylan wouldn't want to know he was a father. Maribel has become the center of Dylan's life, and he has really taken to being a dad. He has started his own security business, which he can run mostly from home, making it possible to spend as much time as possible with Maribel.
Samantha is terrified by what is going on. Her father has been kidnapped, but not before he told her to go into hiding to protect herself. She has been told that her family and friends are in danger. When Dylan arrives, she does her best to get him to leave her, afraid of what might happen. Those fears come to pass when his daughter is kidnapped, and the kidnapper wants to trade Samantha for Maribel.
Dylan is determined to protect Samantha at the same time he works to find his daughter. He and Samantha have been friends since they were eleven, but there is something more between them now. Both try to resist, but it becomes bigger than they can contain. I loved watching the relationship develop, as both of them overcame their fears about risking their hearts. I loved Samantha's resilience as she dealt with each attack and continued to insist on being involved in every aspect. She fell hard for Dylan, but believed that he would deny anything between them in order to focus on his daughter. I enjoyed the ending as both of them accepted their feelings and that they needed to be together. The scene with Samantha's father was pretty cute.
The suspense of the story was very good. Even though I hadn't read the first book, there was more than enough backstory given that it was easy to keep up. Each attack on Dylan and Samantha helped them uncover a little more information. I wanted to smack Dylan for his one plan to go out on his own because it could have turned out so badly. They had help from various friends to get more information on their top suspects. The final confrontation was really intense, and while the immediate problem has been solved, I have a feeling that there is more to the Abductor's story than has been exposed so far.