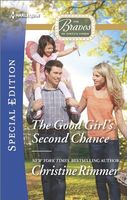 Series:
Bravos of Justice Creek
(Book 2)
Bravo Family Ties
(Book 44)
The Littlest Matchmaker Of Them All…
Quinn Bravo is a committed single dad -- emphasis on single. The millionaire bachelor is focused on his four-year-old daughter and his fitness business. So while he's intrigued by his beautiful new interior decorator, Quinn resolves to keep the chemistry at a simmer. Until one night together causes their attraction to burst into flame…
After her ex-husband betrayed her, local good girl Chloe Winchester returned to Justice Creek, determined not to risk her heart again. Still, maybe she can live out some teenage fantasies with sexy Quinn while redecorating his house. But first Chloe will have to avoid falling for one adorable little girl and the man of her dreams!
Very good book. Quinn and Chloe knew each other as kids, but Quinn was the bad boy and Chloe the good girl. They were interested in each other as teens, but expectations and reputations kept them apart. Now both have moved back to Justice Creek.
Quinn has a four year old daughter and a growing fitness business. He's not looking for a relationship right now, but he's drawn to his beautiful neighbor. Chloe came back home after divorcing her cheating and abusive husband. She has her own interior design business that is also starting to grow. She's not in any hurry to risk her heart again.
Late one night, when neither can sleep, they meet in the darkness. There is an instant attraction and connection that they see no reason to fight. Though the original plan was for one night, neither wants to give up on whatever it is they have. Though their physical relationship has a quick and hot start, that's not all they have together. I loved seeing the way that they talk together often and have shared pieces of their painful pasts with each other.
Quinn quickly realizes that he wants Chloe in his life permanently. He proposes marriage, then gives Chloe the time she needs to be sure of what she wants. Quinn is very protective of those he cares about, and when he discovers that Chloe is having issues with her ex, he wants to help. Chloe knows that she's fallen for Quinn and wants to be with him. But it has taken time for her to get her life together after her divorce, and to find her independence. When she was younger she had allowed her mother to have a lot of negative influence on her life and she's working to overcome that. When she starts getting creepy messages from her ex, she is determined to deal with it herself.
This causes some conflict between Quinn and Chloe. He wants to protect her and care for her, and he is extremely frustrated by her refusal to allow him to help. I could understand, because he was worried about her safety. I had a great deal of respect for Quinn, because though he didn't like it, he promised Chloe to stay out of it. There's still a part of Chloe that blames herself for her problems with Ted, and that part is determined to solve her problems herself, without leaning on Quinn. I liked seeing the way that she was confident enough in Quinn to ask him to honor her wishes. She knew what she was doing bothered him, but she really felt that she wouldn't deserve Quinn if she didn't take care of it herself. The ending was intense, but both Chloe and Quinn came through with flying colors.
I really enjoyed the secondary characters also. Quinn's daughter was a real sweetheart. Quinn's love for her was obvious and I loved seeing how he could be soft and tough with her at the same time. His worries about her are one of the things that brought he and Chloe together. Chloe fell for Annabelle almost as fast as she fell for Quinn. I really liked the way they connected over the fairy dress that Annabelle wanted. I liked Quinn's friend/helper Mannie and his part in pushing Quinn and Chloe together. It wasn't very subtle, but it was effective. I also liked seeing more of Quinn's family, especially his sister Nell. The face off she had with Chloe was pretty amusing, but it really showed the love and support that the Bravo family has for each other. The only character I didn't like (besides Ted) was Chloe's mother. She was a real piece of work and I hated the way she talked to Chloe. I loved seeing Chloe stand up to her and stand her ground. She redeemed herself a little bit at the end, so I hope she continues to improve.
*I received a copy in exchange for an honest review.