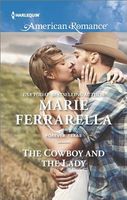 Series:
Forever Texas
(Book 13)
EVERYONE NEEDS A HERO
…and this tiny Texas town is Deborah Kincannon's last hope. The Indiana nurse will do whatever it takes to save her troubled teenage brother from their painful past. Debi isn't prepared for the community that welcomes them with open arms -- or Jackson White Eagle, the handsome rancher who's giving new meaning to starting over.
As co-owner of the Healing Ranch, Forever's former bad boy is paying it forward. But Debi's brother isn't the only one who's blossoming under Jackson's innovative program for giving back to his town. The pretty, guarded newcomer is igniting a powerful yearning that's bringing out the unlikely hero in him. Can Jackson convince Debi that she has finally found her safe haven -- with him?
Sweet story about two wounded souls who find their way to each other thanks to a teenaged miscreant. Debi has been the guardian of her younger brother since their parents were killed in a car crash that also injured him. Since that day, he has turned from a good kid to a sullen troublemaker. When her husband forces her to choose between him and her brother, she knows she needs help. When a friend tells her about the Healing Ranch in Forever, Texas, she feels that it is her last chance to save her brother from himself.
Jackson and his brother deal well with troubled teenage boys because they were once just like them. It was working on the ranch with their uncle that turned them around, and when he left them the ranch they decided to do the same for others. They've had great success and Jackson is certain he can help Ryan. What he doesn't expect is his desire to help Debi too.
Debi isn't sure what to make of Jackson and the rest of the town of Forever. She's never experienced anything like the openhearted welcome she's gotten from everyone. She holds herself a little apart at first, since she only plans to stay until Ryan is through the program. But a temporary job at the clinic starts drawing her into local life, and it isn't long before she feels more at home in Forever than in Indianapolis.
The failure of her marriage has left Debi doubting her ability to pick a good man, and the attraction she feels for Jackson is something she is determined to resist. But the more time she spends with him, the more she begins to trust him. They get closer, yet she always feels that he's holding something back. She's fallen for him, but when Ryan's time is up and Jackson doesn't ask her to stay, she believe that he doesn't care and that she's given her heart for nothing again.
I loved Jackson and his determination to save as many boys like him as he can. He's drawn to Debi, but doesn't feel that any woman would ever want to stay with him, thanks to the events of his past. The examples of marriage that he had left him with no role models to guide is way. His mother left him and his father when he was little, after his father had cheated on her. Later, his father had left too. Jackson went into his relationship with Debi expecting her to leave too. In spite of how close they had gotten, when Ryan's time was up, Jackson simply accepted that she would leave, without trying to do anything to change her mind.
I loved seeing Jackson's brother force him to look at what he's doing. It was fun to see him point out where Jackson has gone wrong. Seeing Jackson take a chance was really satisfying. The epilogue was fun, especially seeing the new and improved Ryan.
Revisiting the town of Forever was great. As always, the crusty but softhearted Miss Joan played a part in bringing two lonely people together. I also liked seeing the way everyone tried to make Debi feel welcome. Her confusion over the differences between the city and small town was great, and I enjoyed seeing her become part of it all.