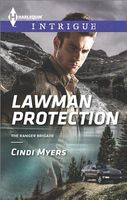 Series:
Ranger Brigade
(Book 2)
One lawman is determined to keep his enemies close…and an innocent woman even closer…
A killer lurked in the Colorado wilderness, and now Captain Graham Ellison had some reporter sniffing around the crime scene. And not only did Emma Wade know the victim, she never dropped an investigation once she started it. But all Graham saw was an independent streak that would get the gorgeous redhead killed. As much as he didn't like allowing a civilian access to his case, he needed to keep Emma close if he also hoped to keep her alive. And he very much did. After all, she was an innocent victim who needed his protection. Nothing more. Or so he kept telling himself.
Very good book that kept me hooked from the very beginning. Graham is the head of a task force that is investigating crime in and around Colorado park lands. When the book opens, he is unwillingly giving a press conference, at which Emma is one of the members of the press. She confronts him about a woman that has gone missing and that law enforcement doesn't seem to be making an progress in finding.
Graham detests the press because of their habit of stirring things up. He's not happy with Emma's questioning of their dedication. He makes it clear to her that they have done what they can, but that they also have other cases they are working on. Emma doesn't give up once she's started investigating a story and Graham agrees to meet with her and talk. Something that he finds immensely frustrating is that he is also very attracted to the beautiful reporter.
Emma is someone who is very independent and very driven. She doesn't let anything get in her way when she is on the trail of a story, and that includes attractive FBI agents. She finds him extremely appealing, but also very frustrating when he tries to warn her off her investigation,
Emma and Graham realize that she might be onto something when someone takes shots at them while they are out to dinner, and then arrive at her home to discover that someone has broken in and stolen her research files. Graham's protectiveness kicks in and he takes her to his house that night to keep her safe. Their mutual attraction starts making itself felt almost immediately. But that attraction doesn't lessen their conflicts over her investigation, and a story she writes brings their differences back front and center.
The attraction between Graham and Emma is fierce and impossible to resist. I loved seeing how they admitted it and accepted it. Their first time together was incredible. One of the things I liked best about them as a couple was that they accepted each other as they were. Emma is not a petite twig and has accepted and embraced the body that she has. Graham is a tall and muscular man himself and appreciates Emma's curves. Emma likes being with a man that she doesn't intimidate.
Their first encounter comes to an abrupt end when someone sets her house on fire with them still in it. At this point, both Emma and Graham are determined to find out who is behind the attacks and why, but they have some trouble agreeing on how to accomplish it. Graham worries about Emma's safety, and finds the best way to keep her safe is to keep her with him, even while doing investigations. Emma tries to maintain her independence and works some investigative angles of her own, one of which gets her kidnapped. I loved seeing how Graham and his team found her, and the rescue itself was really intense. Graham and Emma have to learn how to reconcile his protectiveness and her independence to make their relationship work.
The suspense of the story, as the task force continues to try to identify who is behind the crime wave, builds in intensity throughout the book. From the death of a pilot and the identification of his missing cargo, they discover that they may be dealing with more than drugs and trafficking. Emma's linking of the missing woman to their chief suspect may be the motivation behind the attacks on her, but finding the proof they need continues to be a problem. The culmination of this book was intense, with part of the mystery solved, but another part still unresolved. I'm looking forward to the other books and seeing how it all ends.