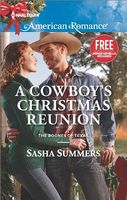 Series:
Boones of Texas
(Book 1)
A HAPPY REUNION?
Way back when, Hunter Boone thought he and Josie Stephens had something that would last forever. Then she got her ticket out of town and took off -- alone. The hurt nearly tore him apart. By the time Josie realized she'd made a mistake, Hunter had already married.
Now Josie's back in Stonewall Crossing, and while instant fire flares between them, she can't come between the now single dad and his son. As the whole town gets ready for Christmas, Josie finds it hard to avoid Hunter. No matter how much he tempts her with the promise of a future together, she has to tell herself -- for her own survival -- that relationships just aren't her thing…
Good reunion and second chance story. Josie has come back to Stonewall Crossing to help her father in the bakery while he recovers from hip surgery. She had left the town and the boy she loved behind in order to follow her dream of becoming an artist. By the time she admitted to herself that she missed Hunter and had made a mistake, he had married someone else.
Hunter had been devastated when Josie left, and had married someone else on the rebound. That marriage didn't work out, but he has an eleven year old son who means the world to him. Now that she's back, he realizes that his feelings for her never died, and he would do anything for another chance with her.
I loved Hunter's determination to show her that they can be happy together. There are a couple of big obstacles to his plans. First is the fact that Josie doesn't seem to believe that they have any chance of that future that he wants. The second is that his son appears to hate Josie with a passion. I loved seeing Hunter do everything he could to show Josie how much he still loved her, including some very romantic moments. I also liked that he wasn't going to let his kid dictate his love life. He wasn't mean about it, but he was firm that although his son was important to him, so was Josie.
Josie has some baggage that she came home with. Her career as a children's author and illustrator has stalled somewhat, and her last relationship fell apart because she couldn't commit. She believes that she is bad at relationships, and is using that to try to keep Hunter at arm's length. She also doesn't want to come between Hunter and his son, as that would make her feel even worse.
I really liked the way that Hunter's persistence seemed to be showing progress. After a rough beginning, when Josie didn't know about his divorce, things began to look better. Josie was actually considering moving back to Stonewall Crossing and seeing what might happen between them. But when Hunter's ex comes back to town, she stirs up some trouble that creates a wedge that may separate them forever.
I can safely say that I really didn't like Hunter's ex. She was selfish and careless and I hated the way that she treated and used their son. I also thought there were several places that his son needed his attitude adjusted in a big way. What he did at the end, at the instigation of his mother, was really wrong. I was glad to see that he came clean before it was too late.
I mostly liked Josie, but she had her moments when she really needed to have more faith in what she and Hunter had together. I did like that she didn't want to ruin the relationship that he and his son had, but wished that she had stood up for herself a little better.
I enjoyed the setting of Stonewall Crossing and I am looking forward to seeing more of it in future books. I also like the secondary romance between Josie's dad and Lola, It's always fun to see a "senior" romance develop.