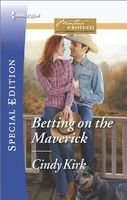 Series:
Montana Mavericks: What Happened at the Wedding
(Book 4)
Rust Creek Ramblings
You heard it here first: Good ol' boy Brad Crawford left that raucous Fourth of July card game with legal possession of Boyd Sullivan's Leap of Faith Ranch. Never mind that Brad took advantage of an old man under the influence. The handsome and cocky Crawford has always had a "me first" philosophy.
Now we've learned that Boyd's long-absent daughter Margot Sullivan has returned to Rust Creek Falls and is living with Brad at the Leap of Faith! It seems unthinkable that the strong-willed, sassy rodeo rider would allow Brad to take advantage of her. So just what is going on behind those weathered fences? Place your bets, savvy readers. Could the right woman finally have reformed Brad the cad?
Very good book. The fallout from the spiked punch at the wedding in July continues with the story of Brad Crawford and the ranch he won at the poker game. Brad had no intention of keeping the ranch, which he feels that Boyd only bet because he was drunk. But he hasn't been able to give it back because Boyd disappeared, leaving Brad responsible for the ranch. He had been driving back and forth between his home and the ranch, but recently decided it made more sense to move into the ranch house.
Margot hasn't been back home in awhile, thanks to a falling out with her father. But a recent rodeo injury has her coming home to recuperate. She's shocked to find her father gone and Brad living in the house, and quite certain that there's something fishy going on. She's not about to concede defeat until she finds out for sure what happened.
I loved the sparks that flew between Brad and Margot from the beginning. They may have been at odds over the ranch, but there was also an attraction that kept pulling them together. I liked seeing them work together on the ranch, and how that began to lessen the hostility that Margot felt. She also discovered that Brad was just as determined to find her father as she was.
I enjoyed seeing the relationship build between Brad and Margot. They start it out as just enjoying the physical side for as long as Margot is going to be there. They both know that she plans to return to the rodeo circuit as soon as she's healed. But that relationship starts to change, though neither one wants to admit it. Brad had been married once before and is cautious about committing again. The more time he spends with Margot, the more he realizes that the two women are very different, as are his feelings for Margot. I loved his protectiveness, and also his worry about their age difference. He has a really romantic side that comes out when he's with her. Margot has spent so much time on her rodeo career that she hasn't made much time for relationships. I loved seeing the way she came to trust Brad, and shared her issues with her father with him. His sensitivity toward those feelings made the ones that were growing for him even stronger. I also liked the way that what she feels for him makes her look at her dreams differently.
Both of them have trouble expressing those feelings to each other, and that lack of communication creates some problems for them. Brad makes a decision about the ranch and goes off to take care of it without talking to Margot about it. Because he's obviously keeping something from her, it leaves Margot feeling that he doesn't trust her, and that their relationship is over. Rather than stick around and confront him, she makes her own plans, her pride not letting her take a chance on being rejected by another person. I loved the ending as both of them faced their fears and decided to take a chance. It was sweet and romantic. The epilogue was lovely.