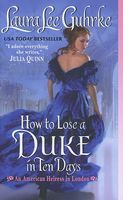 Series:
An American Heiress in London
(Book 2)
They had a deal . . .
From the moment she met the devil-may-care Duke of Margrave, Edie knew he could change her life. And when he agreed to her outrageous proposal of a marriage of convenience, she was transformed from ruined American heiress to English duchess. Five years later, she's delighted with their arrangement, especially since her husband is living on another continent.
But deals are made to be broken . . .
By marrying an heiress, Stuart was able to pay his family's enormous debts, and Edie's terms that he leave England forever seemed a small price to pay. But when a brush with death impels him home, he decides it's time for a real marriage with his luscious American bride, and he proposes a bold new bargain: ten days to win her willing kiss. But is ten days enough to win her heart?
Very good book. Edie had come to England five years earlier, escaping a bad situation back in New York. Unfortunately, she hadn't found a husband during the season which meant returning to America, something she really didn't want to do. When she discovered that Stuart needed a rich wife, she proposed a marriage of convenience - she would pay the debts, care for his estates, and provide him with the funds he needed to return to Africa, as long as he stayed there.
Stuart is more than happy to take the deal, as it gets him exactly what he wants. He spends the next five years busily exploring various parts of Africa, leading safaris, and even discovering a new species of butterfly. But when a close encounter with a lioness nearly results in his death, Stuart decides it is time to go home. He's spent a lot of time over the years thinking about Edie, and he's ready to make something different of his life.
Edie is horrified when Stuart shows up, expressing his intention to make their marriage a real one. He makes his case quite eloquently, but Edie is blunt in her statement that she has no desire to live with him or have a family. She likes her independence, her charitable works, and raising her younger sister. The thought of living with him sends her into a panic. Consulting with a lawyer gives her only one option that is acceptable to her - a legal separation, leaving them married but living apart.
Stuart is surprised by the feelings of desperation he gets from her whenever he tries to talk to her about their marriage. He's certain he can win her over if she will just give him a chance. So he makes a bargain with her that he can get her to willingly give him a kiss within ten days. If he succeeds, she will give up on the idea of a separation. If he loses, he will grant her request. But she has to give him a fighting chance.
I loved Stuart. He really is a very nice guy, who just wants a chance at the marriage he thinks he can have. He starts out quite gently, wooing her with picnics and conversation, and some mild flirtation. He senses that there is passion under the cold attitude, so he begins a subtle form of seduction. But Edie's resistance is strong, and eventually he figures out why. I loved his reaction and how angry he was on her behalf. He became even more determined to show her that what she experienced isn't the way it should be.
I was a bit frustrated with Edie at the beginning. She was so determined to keep Stuart away from her that she wouldn't listen to what he was asking for. For a woman who had been so independent and good at what she was doing, seeing her run away just didn't seem to fit. But as her fears were revealed, I felt more sympathy for her, and couldn't wait to see how Stuart was going to overcome them.
There were some pretty amusing scenes as Edie used her prescribed time with him. I loved tea with the vicar, and how much amusement Edie got from Stuart's discomfort. Of course, Stuart would get his revenge by using his time to tell her all the things he wants to do to her. I loved seeing the effect it had on her as she slowly began to look forward to their encounters. There is a scene at the end where it looks like it's all going to work, until a flashback ruins it. I loved Stuart's reaction and what he does with his time while he gives her the time she needs. When he returns to her, though the time for their bet is up, I loved seeing how he made his case for their future. He really bares his soul to her, showing her his deepest vulnerabilities. Even more satisfying was Edie's reaction to his return. She was able to speak of her own feelings in ways she never had before. I loved the realistic view of her expectations for the future. The epilogue was fantastic, and a wonderful lead in to the next book.