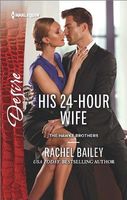 Series:
Hawke Brothers
(Book 3)
What happened in Vegas didn't stay there for CEO Adam Hawke and go-getter Callie Mitchell. And their drunken lark of a wedding is coming back to haunt them. Because Adam and Callie are now working together, and she's being blackmailed over their very personal connection by a coworker. To deflect the threat, Callie and Adam make their sham marriage look real. But the passion that ensues is no sham. Could their wedding lark have real wings after all?
Good book. For the past three years, Adam and Callie have met during a business conference in Las Vegas. The first two years they enjoyed each others' company and moved on. The most recent conference went a bit differently. Thanks to a bit too much alcohol, Adam and Callie decided to tie the knot at one of Vegas's many chapels. In the cold light of morning, Adam realized that it had been a mistake, and they plan to quietly file for divorce.
Three months later, neither has yet done so, when Callie shows up in Adam's office. She's being offered a promotion at her PR firm, and one of the accounts she'll be working on is that of the Hawke Brothers Trust. She wanted to let him know so that they can quickly deal with their marriage and so it doesn't become an issue with working together. But before they can do so, a jealous coworker of Callie's threatens to take the secret marriage to the tabloids. The only thing they can do is make it look real and take it public themselves. I loved seeing the way that they laid everything out like a PR project, and couldn't wait to see how real life was going to affect it.
To aid in the deception, Callie moves in with Adam, but here is where things start to get a little tricky. They have never been able to deny the attraction between them, and living together without giving in to it is making their public interactions less than convincing. They decide that they can be adult enough to enjoy their time together without becoming "emotionally compromised."
Adam has always felt an incredible amount of responsibility for his family, and been especially protective of his brothers. As a kid, he was closest to his grandfather and saw the fallout when his grandfather fell in love with a woman who didn't feel the same way. He swore he would never allow himself to lose control of himself that way. Even when he helped his brothers win their loves, he didn't allow ideas of love for himself. The only time he let go of control was the night he married Callie, and he's been running from those feelings ever since.
As Adam and Callie are forced to spend time together, they get to know each other in ways they hadn't with their brief hookups. Their connection gets stronger, but neither wants to believe that it is anything more than sex. They start to talk about keeping their affair going even after they divorce, because neither is truly willing to let go of what they have. But when Callie realizes that she has truly fallen in love with Adam, she can't stand the idea of going forward without his returning her love and leaves. Adam has to confront his fears and decide if he's willing to risk it all to get it all. His big moment was a huge step for him and really well done. The ending was sweet and romantic and the perfect wrap up for the series.
I really liked getting to catch up with Liam and Jenna, and Dylan and Faith. It was great to see the way that they all accepted Callie so easily, even knowing the details of the relationship. I loved their parts at the end, especially the way that Liam and Dylan confronted Adam after Callie left. It was so much fun to see them turn the tables on him.