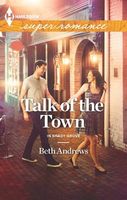 Series:
In Shady Grove
(Book 1)
Shady Grove -- where everyone knows your secrets
Once, Neil Pettit was the only thing Maddie Montesano wanted. She tried every trick in the book to keep him, but no luck. It took some time-and a lot of holding her head up while the town gossiped-but she's made a good life for herself and her daughter.
Now, Neil's back and is trying to be the father he never was. Maddie so doesn't need this kind of disruption. Not when the crazy attraction she's spent years ignoring still sizzles between them. The temptation to give in and have Neil again is strong. And when he offers that dream of forever she'd abandoned, well, she might give this town something new to talk about....
Very emotional second chance story. Neil and Maddie had been high school sweethearts. Neil had plans for his future that didn't include staying in Shady Grove. His dream was to play for the NHL. Maddie had a dream too - to make a family with Neil and be together forever. But when she got pregnant, it became obvious that their dreams were not compatible. Maddie stayed in Shady Grove and raised their daughter, and Neil went on to become a hockey superstar.
Now Neil is back for a visit and wants to try to reconnect with his daughter. He knows he's made mistakes and wants to find a way to fix them. But to do that, he's going to have to find a way to deal with Maddie. He understands her anger with him, but surely it's time to move past it. Maddie isn't so sure she wants to move past it. She's been glad to have Bree all to herself. Having Neil around again is bringing the old attraction back and she doesn't want to risk getting her heart broken again.
There was a lot of strong emotion flying around in this book. Whenever Neil and Maddie were in the same room, sparks would fly. Maddie has no trouble still expressing her anger over Neil's abandonment. There are times she goes overboard and takes some pretty cheap shots at him. But beneath that anger is the temptation to see what might be left of their old relationship and that scares Maddie. In spite of his past failures, I liked Neil. He wants to be a better father to Bree. In his interactions with Maddie he does a good job of keeping his temper. He doesn't deny his past mistakes, but makes it clear he wants another chance. I liked his persistence and how he finally won Maddie's cooperation.
The relationship between Bree and Neil is difficult. He's allowed his job to interfere for too long, and Bree has reached the age where she feels the lack of attention. He wants to do better but he's no longer able to relate to her. The things he tries tend to add to the strain between them instead. Bree really wants a better relationship with Neil, but she's afraid to trust that he means what he says. She's spent too long feeling like he doesn't really care for her. When a conflict arises between them, feelings that have been buried for too long are finally shared, and a bit of progress is made.
In trying to work together to do what is best for Bree, Neil and Maddie are finally forced to face their pasts. A surprising revelation from Maddie and Neil's reaction to it start a healing process between them. I liked seeing them start to rebuild their relationship. I loved seeing Neil recognize that his priorities have changed and that he now wants more out of his life. Maddie's reaction made me ache for him. At the end it was Bree who made Maddie admit what was missing in their life and gave Maddie the motivation to go after it. The ending was great.
I really enjoyed the secondary characters too. Neil's adoptive parents were great and learning more about his background with them gave me better insight into him. Maddie's brothers were great. I loved their protectiveness, but they were also typical brothers in the way that they sometimes treated her. The situation with Neil's sister Fay was heartbreaking at times. Facing her issues also made both Neil and Maddie look at their own methods of dealing with things. The best of the secondary characters was Bree. She was such a realistic character with her body issues, her sometimes melodramatic attitude, and her desire to feel like she was important to her father. I really liked seeing her progress through the book.