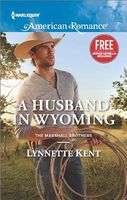 Series:
Marshall Brothers
(Book 2)
Cowboy Confidential
Dylan Marshall is a man of many secrets, and journalist Jess Granger is determined to uncover them all. First, why did he suddenly abandon his promising art career? And why, after a two-year hiatus, did he agree to a new exhibit of his work? Most of all, how is it that Dylan can make a city girl like Jess imagine staying at the Circle M forever?
Jess is so busy working on the handsome rancher's defenses that she doesn't realize he is quietly eroding her own. She came looking for a story that would save her job and do justice to Dylan's sculptures. But when it comes to Dylan, Jess discovers that the real story might be about finding her true home.
Good book. Jess is a reporter with a fancy art magazine who has come to Bison Creek to interview Dylan Marshall. He had been an up and coming artist of abstract sculptures when he suddenly left the art world and all but disappeared. After two years away, he has a new exhibit scheduled and Jess's bosses want to know all the whys.
Dylan isn't looking forward to the interview at all. He knows the reporter is going to be digging for things that he really doesn't want to talk about. Since it is a condition of the show, he can't avoid the interview, but he can sure try to limit what he shares.
I liked Jess. Even though she came across as a bit snooty at the beginning, I quickly warmed up to her. Her own experiences as a foster kid made her relate really well to the teens that the Marshalls are mentoring. I liked her determination to find out more about Dylan, and her article when she wrote it was perfect. Because of her past she doesn't believe that relationships last. She also has some other things going on that make her believe that anything that happens between them has no future.
I liked seeing the relationship that grew between Jess and Dylan. Both had quite an effect on the other. Jess's city attitude undergoes quite a change as she learns more about Dylan and the man and artist he is now. She's always protected her heart and emotions, but Dylan and everyone else at the ranch are breaking down her barriers. I loved seeing the way she went from not believing in his new direction to seeing the beauty in it. She also saw more clearly than any of the others what his art meant to him. Dylan has been protecting his own heart since he came home. His family and the ranch are his refuge and the core of his strength. Since committing to doing the art show he has been stretched thin with working on his sculptures and the ranch. Jess's presence is another layer, but it is soon one that he enjoys. As he introduces her to his life on the ranch he starts to dream of more with her.
A crisis on the ranch with the teens they are mentoring also brings Dylan's conflicts to the surface. As he decides to give up his art in order concentrate on the ranch, Jess stands up for him and his art and faces down his family. I loved what she said and the way it gave him the courage to tell his family what he needs. It was great to see Dylan finally get the support that he needs. But in spite of everything that he and Jess have together, she still feels that she isn't what he needs and goes back to New York. I loved seeing the way that each of them dealt with their separation and how eventually they found their way back together. I loved seeing Jess's return to Wyoming and the decisions she had made about her life. I also loved seeing Dylan's show and the reactions to his art. A very satisfying ending to the book. I'm looking forward to reading about the other two unattached brothers.
I liked the secondary story of the ranch helping the troubled teens. Each one had a personality of their own and their individual issues. I liked the scenes with Dylan and Jess interacting with them, and how it showed another side of their own personalities.