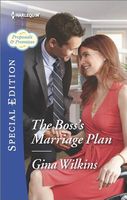 Series:
Proposals and Promises
(Book 3)
To: My assistant
From: Scott Prince
Re: Will you marry me?
Bachelor Scott Prince knows he wants a family -- so it's time to find a wife. But for a workaholic construction company owner with no time for romance, the perfect woman may just be his very loyal, very pretty assistant Tess Miller. For Scott, their engagement is a practical business deal…with a bonus.
Scott's proposal is exactly what Tess needs to prevent another holiday season alone. And then he kisses her -- and she realizes she's not as immune to her sexy boss as she thought. But this is a business deal, with no room for emotion…right? Or can Tess find a real happy-ever-after with her "Prince"?
Good friends to lovers/boss and employee story. Tess has worked for Scott for six years and has become indispensable to him. She loves her job and doesn't mind the long hours and frequent interruptions to her personal life. Her personal life isn't all that great anyway. She's got some good friends, but her romantic life just doesn't exist.
Scott is the head of his construction company and has worked hard to make it the company that it is. He's thirty seven years old and feels like it is time for a family of his own. He was engaged a few years earlier, but it hadn't worked out. His fiancee didn't like his hours, and constantly complained about his lack of romance. This time he's going to pursue it in a more practical manner. As soon as he lists out what he's looking for, he realizes that Tess is a perfect match.
Scott caught Tess at a bit of a low point. It's the holidays and she's alone again except for her older sister. Her sister is constantly trying to fix her up, and she's getting tired of it. She's tried online dating and has struck out there too. She just wants a family of her own. When Scott comes to her with his "marriage plan" she says yes.
I loved seeing these two together. They've known each other for six years, so there aren't a lot of secrets between them. As they begin attending events as a couple instead of as boss and employee, things start to change. I loved seeing Scott begin to see Tess as a beautiful woman. Tess had always seen Scott as a sexy man, but buried any feelings because of her job. Their "just a test" first kiss hit them each harder than they expected, and the physical attraction between them grew. Though their relationship is built on friendship, and emotions such as love have never been mentioned, Tess realizes that she wants more than Scott seems willing to give. It was fun to see Scott move away from the practical without realizing it until it was almost too late. There were a couple great scenes with Scott's brothers as he sees their love for their wives but believes he doesn't need that, then later seems to envy what they have. When Tess confronts him with what she needs from him, Scott has to make a decision. I loved seeing Scott's confusion and then realization that he had loved her all along, but hadn't recognized it. I liked the ending and that Tess made him work for his happy ending.
I liked the secondary characters a lot. Tess's friends were great sounding boards for her and there when she needed them. I really enjoyed seeing them help Tess pick out her holiday dresses. I also liked seeing more of Stevie, and am looking forward to her story. I suspect that her neighbor is going to be part of it. Tess's sister was an interesting character. She drove me as nuts as she did Tess, with her attitude and her digs, but I loved that she was there when Tess really needed her. Scott's family was great. I loved the way they made Tess a part of them so easily. I also liked how Scott's brothers gave him a hard time, but were an example of what marriage should be.