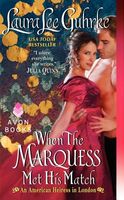 Series:
An American Heiress in London
(Book 1)
She's the matchmaker . . .
Lady Belinda Featherstone's job is to guide American heiresses to matrimony, and away from men like Nicholas, Marquess of Trubridge. But the charming, disreputable marquess needs a wealthy bride, and he hires Belinda to help him find one. Her task seems easy: find that scoundrel the sort of wife he so richly deserves. But Nicholas's hot, searing kiss soon proves her task will be anything but easy.
He's the perfect match . . .
Nicholas plans to wed a rich, pretty young darling to restore his fortune, and he's happy to pay a marriage broker to help him. But one taste of Belinda's lips and Nicholas's sensible scheme to marry for money goes awry, and he yearns to show his beautiful matchmaker he's the perfect match . . . for her.
Fun start to the new series. Belinda has gained an excellent reputation as a matchmaker. As a former American heiress she now spends her time helping her countrywomen find suitable husbands and steering them away from disreputable fortune hunters. She's not happy when Nicholas shows up, wanting her help finding a wealthy wife. He is exactly the type of man she doesn't like.
Nicholas is desperate to find a wife with money. His controlling father has cut him off, trying to force him to marry his choice. Nicholas has spent his adult life doing the opposite of anything his father wants, and isn't about to change now. He's certain that Belinda can find him what he needs.
The sparks flew between Belinda and Nicholas from the moment they met. She has absolutely no trouble telling him exactly what she thinks of him. Nicholas reminds her far too much of her late husband, and that isn't a good thing for him. Her determination to stop his plans leads her to pull a pretty underhanded trick, one that comes back to haunt her when he blackmails her into helping him.
The sparks aren't all antagonistic. Nicholas is, after all, young, handsome and charming when he wants to be, and Belinda is horrified to discover that she is attracted to him. For his part, Nicholas is just as attracted and delights in trying to get to Belinda. There is constant back and forth between the two during the first half of the book, as Belinda puts forth the worst possible candidates for Nicholas, and he gets even by being even more outrageous around her. Their confrontations come to a head during a house party, when a young woman accosts Nicholas, who has to deal with the man who is interested in her for himself. Fortunately, Belinda is on hand to protect him from the consequences, but the attraction between them nearly gets out of hand. Belinda is rather blunt when she tells Nicholas exactly what she thinks of his actions, his reasons for them, and her opinion of him.
Up to this point I had some issues with both of them. I thought that Belinda was a bit too judgmental, especially since she didn't really know him. She was basing her attitude on his perceived similarities to her late husband and her brother-in-law. She took a lot of joy in making things as hard as possible for him. She also gave off a lot of mixed signals, sometimes giving in to his advances and other times pushing him away. Nicholas also came across as rather immature. Yes, his relationship with his father was terrible, thanks mostly to his father's manipulations. But Nicholas didn't help matters by doing the opposite of whatever he knew his father would want. Then Nicholas looks at taking the easy way out of his problems by marrying money. He also makes his advances to Belinda, knowing that nothing can come of it if he's going to marry someone else.
But their confrontation at the house party becomes a turning point for Nicholas. Once he gets past his anger at the things Belinda said to him, he has to admit that she was right about him. He also realizes that she means more to him than just someone he wants to sleep with, and is determined to find a way to earn her respect and her love. I loved the plan he came up with and how he went about implementing it. The difference in him was amazing. I loved the effect it had on Belinda, as she realized that there was more to Nicholas than she had expected. I loved seeing them grow closer through letters as Nicholas worked on his project. Once again, things are going wonderfully for Nicholas until his father finds out what he is doing and once again uses his power for evil. I ached for Nicholas as once again his father tries to destroy his dreams. But this time, dear old dad didn't count on an upstart American and the love she finally admitted she had. I loved seeing what Belinda did and both the Earl's and Nicholas's reactions. It was a fantastic ending.