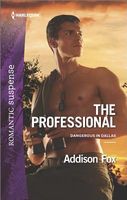 Series:
Dangerous in Dallas
(Book 3)
Despite her job as a wedding planner, Violet Richardson doesn't believe a happy-ever-after is in her future. And when she's kidnapped by a killer, she's surprised that rescue comes in the form of her tempting yet irritating neighbor Max Baldwin.
Trying to forget his dark past, Max never meant to take on his attractive neighbor's troubles. But now the bickering pair must outrun a thug who's determined to get his hands on mysterious jewels he thinks are in Violet's possession. And as they race for their lives through Dallas's summer heat, Max and Violet may finally open their eyes to the burning passion they share.
Excellent book. This one picks up where the second book,
Tempting Target
, left off. Two of the three jewels are safe, but the bad guy is still determined to get his hands on them. As she and her friends finish one of their events, Violet is kidnapped by him with the purpose of forcing her to hand over the one she has. Just when she's certain she will not survive, she is rescued by Max.
From the moment Violet was taken, Max is determined to get her back safely. As a former military man and combat engineer, he has some unique skills to bring to the problem. The way that he rescued Violet from where she was being held was attention getting and fantastic. But it takes more than that, and Violet and Max have to stay ahead of their pursuer if they want to survive. I loved Max's surprise at Violet's ability to adapt and overcome. They also discover that the intensity of their situation brings their attraction to the irresistible point. I liked the way that the two of them realized that the sparks between them hadn't been dislike at all. It was great to see how much alike they are. Max is adept at seeing past Violet's business persona to the woman beneath and the hurts that have made her who she is. He's hiding some trauma of his own, which makes it easier for him to spot in her. Violet recognizes that he has his own demons, and becomes determined to break through his walls. When she finally succeeds, it is one of the most emotional parts of the book. I loved seeing the honesty with which they treat each other, Their acceptance of each other at the end, with their quirks and hangups was fantastic.
As they rejoin their friends, the focus becomes stopping the bad guy for good. Glimpses of the action from his point of view show just how far he is willing to go to accomplish his goal. Another player enters the picture, and it is hard to tell just what his intentions are. The final confrontation with the bad guy accomplishes our characters' goals, but the questions surrounding the jewels are still there. We are left with quite a cliffhanger, and I can't wait to see how the next book goes.