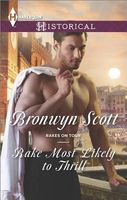 Series:
Rakes on Tour
(Book 2)
A rakish thrill-seeker…
Archer Crawford has come to Siena to compete in its notorious horse race -- only daredevils need apply! But on his first night, he meets the beautiful Elisabeta di Nofri, a young noblewoman whose love of thrill-seeking is second only to Archer's.
A woman longing for more…
Elisabeta is determined to savor one last taste of freedom before an unwelcome marriage is forced upon her. But one night of wild desire isn't enough. And Archer and Elisabeta will have to risk everything if they're to win what they truly want…
Good story with a unique setting. Archer and his three friends left England to go on their tour of Europe. It started with a bit of fun as Archer, horse lover that he is, rescues a draft horse from a cruel owner, only to find that the horse refuses to be left behind in England. It then picks up several weeks later, with Archer's arrival in Tuscany, by himself. One friend found love in Paris, the other two had plans in the Alps, and Archer was determined to arrive in time for the famous horse race.
Before he even makes contact with his mother's family, Archer meets Elisabeta, a young widow who is about to be promised in yet another arranged marriage. She wants a chance to live a little before that happens, and sees the handsome stranger as the perfect opportunity. Their encounter is unexpectedly intense, but they part not expecting to see each other again.
Archer has come to Tuscany to start a new life with his mother's family. Since her death, his relationship with his father hasn't been good. Archer's dream is to ride in Siena's famous Palio horse race, but it's not as easy to accomplish as he thought. The Sienan way of doing things is very different. I loved Archer's introduction to the Italian idea of family, and seeing him begin to adjust his way of thinking. The background of the race and everything leading up to it is very interesting.
Archer is distracted from his plans by the woman he can't forget. When he sees her again, it's only to discover that she belongs to a rival family, and her future fiance belongs to a family that is the enemy of his. The fire between them is something they can't deny or resist, and they find ways to be together in secret. I loved their time together in the country, as they were able to take the time to get to know each other. But when they are discovered by the other man, her wedding is moved up. Archer wants to find a way to protect her, but isn't sure how to do so without starting a bloody feud.
Elisabeta wanted nothing more than to be able to make her own choices. As a widow, she should have been able to, but doesn't want to dishonor her uncle, who raised her after her parents' deaths. She knows that anything with Archer can only be temporary, but she can't help dreaming of something more. Unfortunately, a confrontation with her fiance shows her just what she has to look forward to. I got a little frustrated with the way she wouldn't stand up for her own wants for most of the book, but I did understand why.
Archer is desperate to find a way to save Elisabeta from the hell that awaits her. He has ideas, but some of them would mean that they would have to leave Siena, something neither one wants. The arrival of his friends, as race day fast approaches, gives him some backup as they help him figure out a plan. I loved Archer's big moment, as he combined his English and Italian sides and made his case for Elisabeta's hand. It wasn't all smooth sailing, and the race was intense and exciting. Through it all, Archer's shown as the better man.
I liked a lot of the secondary characters and how their parts helped me understand the way things were done. Archer's uncle was particularly fun, with the way that he would explain things to Archer. I especially liked his part in the proposal to Elisabeta's uncle. He was enjoying it way too much! I also liked Elisabeta's cousin Giuliano. He tried to help her, making it possible for her to see Archer, and also tried to protect her when she needed it. Archer's friends were great and I look forward to reading their stories.