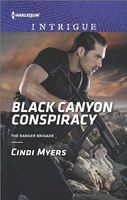 Series:
Ranger Brigade
(Book 4)
He'd rescued a beautiful hostage, now he needed to keep her alive
Former Special Forces soldier Marco Cruz has no time for messy emotions. But the beautiful TV reporter he saved from a hostage ordeal now faces graver danger. Someone wants Lauren Starling dead -- and the sinfully handsome Ranger wants to be the one to protect her.
Teaming up to find a killer and bring Lauren's kidnapper to justice, Marco and Lauren go on the run -- outside the law -- in a harrowing race for their lives. Before long, Marco begins to have unfamiliar feelings for Lauren -- admiration, sympathy…and a powerful lust. He knows what's going on between them is unprofessional. But also undeniable.
Excellent conclusion to the series. Lauren is the reporter who had gone missing in the first book, and who was rescued at the end of
Colorado Bodyguard
. She is determined to see the man responsible brought to justice, but he is rich and powerful and very good at evading consequences for his actions.
Marco is one member of the Ranger Brigade and the one who helped rescue Lauren. He has spent years burying his emotions in order to do his job, but something about Lauren has those feelings reappearing. When it becomes apparent that someone wants her dead, Marco is the one determined to protect her.
Throughout the previous books, all clues led to Richard Prentice being the mastermind behind the crime wave in the area, but hard evidence was impossible to find. Even after Lauren's rescue he was able to sway public opinion against her. His diatribes against the government in general and the Ranger Brigade in particular end up getting the task force disbanded. But being the good guys that they are, the whole crew and their ladies refuse to go down without a fight. Taking the investigation private they come up with an unorthodox plan. Lauren and Marco will beard Richard in his own home and attempt to find the proof that they need. What happens then sends Lauren and Marco out into the wilderness on their own, trying to evade capture. They stumble upon something so unexpected and frightening that they realize they are the only ones who can prevent a huge disaster. I loved their creativity and resourcefulness as, working together, they are finally able to bring an end to Richard's delusions. The entire last third of the book had me on the edge of my seat as I wondered how they would get out of one crisis after another. The final confrontation was intense and scarily realistic in today's world.
I loved the relationship that grew between Marco and Lauren. Lauren has had an especially rough time lately, and recently diagnosed with bipolar disorder is finally getting her life back on track. She is dealing with the stigma of mental illness, which makes her reluctant to believe that someone like Marco could ever be interested in her. I loved the way that Marco not only didn't look down on her, he admired her strength and her courage and made sure she knew it. He had his own insecurities, thanks to his youth in gang ridden LA and his later activities in the Special Forces. He was sure that Lauren could do much better than someone like him. I loved the ending as they confessed their feelings for each other, but also accepted the truth that their lives together would probably never be easy, but if they were together it would all be worth it.