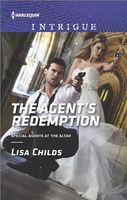 Series:
Special Agents at the Altar
(Book 4)
She'll do anything to expose her sister's killer -- even reunite with an ex…
After six years hunting The Bride Butcher, FBI agent Jared Bell is as determined as ever to find the ruthless murderer. So when the killer strikes again, he'll stop at nothing to bring closure to the case -- and the first victim's sister, Rebecca Drummond. Including staging an engagement to lure the madman into a trap…
It's been years since their torrid rendezvous, but as Jared's fake fiancée, Becca can no longer ignore their attraction. Or the secret she's been keeping from him. For now, she needs to focus on bringing her sister's killer to justice -- and insist on using herself as bait to do it.
Excellent conclusion to the series. Jared is the FBI agent/profiler who has been hunting the Bride Butcher serial killer for six years. When another victim is found, and there appears to be a link to the first victim, Jared pays a visit to the first victim's sister. Becca has never stopped mourning her sister, nor insisting that she knows who did it. Jared is the last person she wants to see show up at her house. Six years ago, in the middle of the tragic event, she and Jared had had a passionate encounter, but their differences kept them apart. She's had no contact with him since then, including telling him that she was pregnant.
The attraction between Becca and Jared is just as strong now as it was before, and neither one can deny it. Jared is stunned to discover he has a son, and angry that Becca kept it a secret from him. Some of those feelings have to take a back seat to the mission of finding the killer, but it isn't easy. I liked the way that Jared accepted the truth so quickly, and loved the way he bonded so quickly with Alex. The relationship between him and Becca was a little trickier. He still cared about her, and the feelings were getting stronger, but telling her how he felt would take more courage than he had. He wasn't sure he could handle hearing that she didn't feel the same way. Becca had also cared about Jared, but because he had left without saying anything, she hadn't either.
Now that they are working together to bring the Butcher to justice, those feelings have come back to the surface. Becca feels pretty guilty that she hadn't told Jared about Alex, and making him part of their lives now makes her realize just how much they have missed. Jared needs Becca's help, but his feelings for her have added a whole new level of protectiveness to them. I loved seeing how both of them had to deal with their feelings and at the same time still keep focus on what they were trying to do. I really enjoyed seeing the way that Becca stood up to Jared when it came to trying to trap the killer. When the final confrontation was over, both of them had to face those feelings and decide whether to take the risk. I loved Jared's big moment there, and Becca's surprise.
The suspense part of the story was fantastic. The tension kept climbing, from the discovery of the new victim right through to the final confrontation. I loved seeing Jared and Becca try to discover the link between the first victim and the last one. It was interesting to see how she stuck to her belief about who the guilty person was. When she started receiving threats, Jared was even more determined to discover who it is. I loved following the investigation, and how they came up with several suspects. Each one seemed to be a good possibility and it was hard to settle on any one of them. There was a very interesting twist at the end that I never saw coming. The final confrontation was intense, and I wondered at times just how everything was going to turn out.