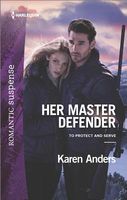 Series:
To Protect and Serve
(Book 4)
A battle-hardened Marine and a driven NCIS agent join forces to survive…
Though survival training is Master Sergeant Tristan Michaels's specialty, one of his students has been murdered. And sharing quarters with the ravishing NCIS agent sent to investigate is a challenge his expertise hasn't prepared him for. Tristan has his reasons for distrusting NCIS agents, but Amber Dalton is stirring unwelcome feelings of a different kind…
Despite the fierce attraction between them, Amber is determined not to let it distract her from the mission. But when they're captured by the killers, escape means combining forces and daring to survive freezing mountain terrain.
This was a fantastic book, loaded with passion, suspense, danger and some pretty heavy emotional obstacles. It had me hooked from the first chapter and unwilling to put it down until I finished. It begins when one of Tristan's students is found dead under suspicious circumstances. An NCIS agent is sent to investigate. Amber is the newest member of her team, and the only woman, and is driven to prove that she can do the job.
Sparks fly between Tristan and Amber from the moment they meet. Tristan has trouble trusting NCIS agents because of an incident in his past, so having Amber there stirs up some old feelings. The only place for her to stay is in his quarters, which stirs up a whole different set of feelings, putting him on edge. Amber knows she has to work with Tristan, but wonders if he is always so grouchy. The bad attitude is a sharp contrast to the good looks and sexiness that has her suffering from her own stirred up feelings. Amber isn't one to back down and pretty quickly lets Tristan know what she expects.
Though their relationship, both professional and personal, has a rocky start, it doesn't take long for them to develop a great deal of respect for each other's abilities. Though the case starts out looking like a fairly simple accidental death, deeper digging soon shows it is much more complicated. Each clue that they uncover puts them deeper in danger. When they are taken by the killers they become the human prey of some very dangerous hunters. The only way to escape is to outwit them and Mother Nature. The descriptions of the environment and Tristan's blunt recital of the requirements to survive their ordeal are so vivid that I could almost feel the chill myself. I loved the setting of the Marine Corps' Mountain Warfare Training Center. The vivid descriptions of the environment and what is taught there, made the story feel even more realistic.
The suspense of the story was fantastic. Add in the occasional viewpoint of the bad guys, and the tension crept up with every chapter. I loved the cooperation among all of those working to solve the crime. I loved how each person came up with another piece of the puzzle and the big picture began to take shape. After Amber's disappearance, I loved how her DC team came riding to the rescue. The final confrontation between Tristan and Amber and the bad guys was really intense. I loved seeing how Tristan's training had him wreaking havoc on those who thought they were so much better.
The personal relationship between Tristan and Amber was both hot and heartbreaking. There is no denying the heat of the attraction between them, but both have baggage that keeps them from believing in a happy ending for them. Tristan has a tragedy in his past that has caused him to bury all his emotions. The only thing that he allows himself to feel is his loyalty to the Marine Corps. He's reached the point where he feels that without the Corps he would have no identity at all. What he doesn't expect to have happen is for Amber to start to break down the walls behind which he has buried those feelings. I loved seeing the way that she tried to show him that his past doesn't need to define his future. Amber has her own baggage that affects the way she deals with people. She has always felt that she has to work extra hard just to be recognized. She refuses to allow herself to feel that she is second best at anything. Even in her relationship with Tristan, she doesn't want to feel that she is taking second place to his job. Both of them have to face those demons before they have any chance of having a life together. I loved Tristan's moment of enlightenment and seeing what he did with it was so romantic. The epilogue was fun, especially the going away party with her coworkers. I also loved the eye opening conversation that Amber had with her sister.
The only issues I had with the book were not with the story, but can be laid to rest at the feet of the editors and publisher. As is all too often the case, the people at Harlequin refuse to properly capitalize words like Marine and Corps. A member of the Marine Corps is a Marine, not a marine. If someone is referring to the Marine Corps, and simply says "the Corps" it is capitalized. And a Marine is NEVER referred to as a soldier. Soldiers are members of the Army. A Marine is always a Marine, and they tend to get a little testy when called soldiers. A very minor complaint, as it only happened once that I noticed, was the wrong abbreviation for Master Sergeant. The correct one is MSgt not MS. All things that a good editor, one that is willing to stand up for what is correct, would take care of.