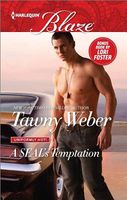 Series:
Sexy SEALs
(Book 9)
Uniformly Hot
(Book 56)
Subject: Navy SEAL Shane "Scavenger" O'Brian
Mission: Seduce and satisfy Lark Sommers!
Lark Sommers's dry spell is officially a sex-starved desert. Since taking over her mom's quirky coffee shop in Nowhere, Idaho -- putting her own career on permanent hold -- Lark's been, well, miserable. But her friends have a plan…one that starts with a superhot guy with a rockin' hard bod.
US Navy SEAL Shane O'Brian has no clue he's being set up. All he knows is that Lark does incredible things to his libido. Still, Shane can't quite bring himself to tell her what he does for a living. After all, their risqué business is temporary -- no strings, no falling in love. Especially when there's no way this SEAL would ever be tempted into anything more than a sexy little fling…
Very good book, with heat, family, secrets, and pain. Lark came to Idaho when her mom was sick, giving up her own promising career as an artist. Since her mom's death, she has stayed in Idaho, running her mom's coffee shop. Relationships have been non-existent and it doesn't look like anything is going to change. Then her friend Sara asks Lark to let her brother use the apartment over the shop while he's in town. Shane didn't really want to come home, but his sister asked, so he did. He's not sorry now that he's met Lark. The attraction between them is hot, and for the few days he'll be in town they can have a lot of fun.
I really liked Shane because he was a little different. He is definitely the typical hot SEAL, who has women falling all over him. But he is also a little shy, and doesn't have the smooth talk that his friends do. He also has a strained relationship with his family. His mother hates the fact that he's a SEAL and constantly tries to get him to quit. But he loves what he does, so they don't talk much. None of his family talks about what he does, which is hurtful to him. Shane also has five sisters, and having grown up with that many females, he avoids emotions whenever he can.
I loved the immediate connection between Shane and Lark. The attraction was intense, but there was more to it than that. Shane sees Lark's pain over her mother's death, and sees the life she has in Idaho. He can also see that it isn't really what she wants, but that her loyalty to her mother's memory is what is keeping her there. He wants to help her see what she is doing, but that puts some strain between them. He gets called away and only leaves a note to say goodbye. Lark is hurt and angry, and wonders if he felt the same connection she did.
Then she finds out what he does in the worst way, I loved seeing the way she was there for him and his reaction to her being there. There's a terrific scene with Shane and his teammates as he's staking his claim on Lark. I loved seeing him ask her to stay a few extra days, and how he tried so hard to show her his world. The longer she was there, the more he wanted her to stay. Lark loved everything about it, and realized what her feelings for Shane are, but her own issues create a conflict for her. A surprise from Shane sends her running, and Shane wondering what went wrong. I loved the intervention staged by his friends, and how Shane realized what he had done. Lark gets her own lecture and has to decide if it's worth the risk. I loved the ending and Shane's big moment was sweet and emotional.