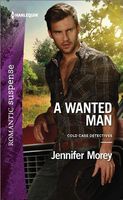 Series:
Cold Case Detectives
(Book 1)
A renegade cop seeks justice in the hot new Cold Case Detectives series...
After his daughter's brutal murder, former NYPD detective Kadin Tandy opens Wyoming's Dark Alley Investigations to bring violent criminals to justice. Romance is the last thing on the sexy PI's troubled mind. That is, until feisty ad exec Penny Darden asks for his help. Now he's investigating her estranged boyfriend's frightening link to a murder. And despite her relationship status, Penny's fierce independence and frank flirtation revive Kadin's damaged heart. But as an untraceable killer closes in on them, the more harrowing the stakes--and the closer they become. At risk are their lives...and their best shot at love...
Very good book that kept me hooked from the first page. Penny is an ad exec who has recently started dating one of her clients. While visiting his home she discovers something that could be a clue in the case of a murdered young girl. Though her client is acting strangely, she's not quite ready to go to the police, so instead she asks PI Kadin Tandy for help.
Kadin has recently opened his own PI business, after years as a NYPD detective. His daughter was kidnapped and murdered, and after he solved that murder he felt compelled to help others going through the same thing. Working for himself gives him the freedom to stretch the rules when he needs to.
The romance between Kadin and Penny was full of obstacles, mostly related to their pasts. The physical attraction between them is hot, but both of them have issues that have them protecting their hearts. Kadin is still grieving his daughter's murder and his wife's subsequent suicide. He believes that he has had his one chance at love and has built walls around his heart to make sure of it. He doesn't expect Penny's flirtation, independence and strength to start tearing down those walls. His determination to protect her makes him realize that it's more than just physical attraction that he feels for her.
Penny has her own baggage that keeps her from committing to any man. Raised by a single mom, she doesn't believe that marriage and children are in her future. She's independent and uses flirtation to keep control of any encounters between her and men. The more time that she spends with Kadin, the closer she wants to get to him. She sees his pain and wants to help him through it, knowing that, until he does there's no chance of anything more between them. Working with him on the cases of the missing and murdered girls also has her looking at her own family life differently. A surprise development part way through the book has her examining her priorities and plans for the future, while wondering if there's any hope of something more with Kadin. The ending isn't quick and easy with simple solutions. They have to actually talk to each other about their fears and hopes and commit to working on their issues.
The mystery in this story was a gripping one. A young girl was kidnapped and murdered and the man that Penny was dating seemed to have some connection to it. After she reported what she found to Kadin, she was followed, attacked, threatened. She works with Kadin to find out the truth, but it doesn't come easy. There are several suspects and no clear path to which one it is. I bounced around between a couple suspects before finally deciding who I thought it was. Penny is determined to help find the truth and takes some risks that put her in more danger. The final confrontation was intense and had me riveted until it was over. I'm looking forward to seeing what's next in the series.