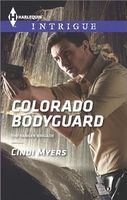 Series:
Ranger Brigade
(Book 3)
The rugged terrain of Colorado wouldn't make their mission easy. Nor would the attraction between them.
Sophie Montgomery's sister was missing and her trail stopped dead in the Black Canyon -- which was firmly in Rand Knightbridge's jurisdiction. Part of the Ranger Brigade, he could lead Sophie on a search deep into this remote part of Colorado. Although afraid to disappoint the desperate beauty, Rand couldn't ignore her determination. But it was clear she needed protecting after shots rang out and Sophie barely escaped with her life. Now, as the job he'd reluctantly agreed to became a very personal mission, Rand knew he'd do anything to bring Sophie's sister home. Because seeing Sophie happy was the only outcome he'd allow. Or accept.
Good addition to the series. Sophie has come to Colorado to search for her sister, reporter Lauren Starling, who has been missing for more than a month. She goes to the team at the Ranger Brigade to find out what progress has been made with the search and isn't happy with what she finds out. When she states her intention to start investigating on her own, Rand steps in to try to stop her. Instead, he finds himself wanting to help her.
Sophie has found some clues that give the team some more things to look at, including their number one suspect in most of their troubles. After she drags Rand along on an interview with Richard Prentice, the two of them find themselves dodging bullets later that evening. Then Sophie's room at her hotel was broken into and her things destroyed. It's obvious that someone doesn't like what she's doing and Rand is determined to keep her safe.
Rand is attracted to Sophie, her beauty and her love and loyalty to her sister. I loved seeing how protective he became of her and how quickly he started to believe in her conviction that Lauren was still alive. I also liked seeing how sensitive he was to her fears and worked to overcome them. Sophie was also attracted to Rand, but she had a hard time believing that he was really interested in her. Even though she is older than her sister, she feels that she doesn't measure up to her in beauty and appeal. I liked seeing the growth of the feelings between them and how Rand's love gave Sophie the confidence to believe in him.
The suspense and action of the story was good and kept a good pace through the book. Each new piece of information brought them a little closer to finding out what happened to Lauren. There were also more things that linked to Richard Prentice, but never the proof that they really needed. There were several times when things got really intense, such as when Sophie sneaked into Richard Prentice's house to look for her sister and again when she and Rand were trapped in the mine. The conclusion was exciting, with one more mystery solved, but one part still hanging fire. I'm looking forward to seeing how it finishes.