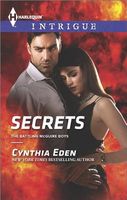 Series:
Battling McGuire Boys
(Book 2)
In a world of lies, he's the only man she can trust
Navy SEAL Brodie McGuire's orders were clear: Get the hostage out alive. After spiriting Jennifer Wesley to safety, their terror and need ignited into passion. Mission over, haunted by memories of their night together, Brodie didn't expect to see the Louisiana society girl again. Then she showed up at McGuire Securities.
Six years ago, Brodie saved Jennifer's life. Now she needs his protection again. But he has no idea who she really is. On his family's Texas ranch, attraction flares, taking them over the edge. As Jennifer's violent past explodes in the present, she has to find a way to earn Brodie's trust before her deadly secrets get them both killed.
Very good book. Six years earlier, when Brodie was still a SEAL, his mission had been to rescue Jennifer. He got to her right before she was going to be killed. There had been an immediate flare of attraction between them, which they gave in to, but then it was over. Brodie never expected to see her again.
Now Jennifer has shown up at the security firm that he and his brothers run. She is being stalked and Brodie is the only one she feels she can trust. But in order for him to protect her properly, she's going to have to come clean about her past.
Brodie had never forgotten Jennifer and often wondered how she was. His protectiveness kicked in when she came to him for help, and the attraction flared hot again immediately. When he found out the truth about her past, he had a brief period of wondering if she could be trusted, but that didn't last too long. I loved watching him stand up for her to his brothers, and how he got them involved in helping too. Brodie's passion and protectiveness grew to the point where he realized that his heart was involved also. He swore that he wouldn't let her walk away again.
Jennifer was an amazing woman. She had been an undercover agent for years, until she couldn't stand the life anymore. She, too, had never forgotten Brodie. As she revealed her past to him, she was worried that it would drive him away from her. As the danger increased, she felt guilty about the trouble she had brought to his family. Her love for him grew to where she'd rather leave him than have him and the family hurt because of her. I loved seeing them come together, and trust each other to be what they needed.
The action and suspense in the book was great. From the moment that Jennifer reappeared in his life, the action didn't stop. I figured out part of the stalker problem pretty quickly, but there ended up being more to it. The additional danger was intense and the final confrontation kept me riveted until I was through it. There were some interesting twists, including a possible connection between Jennifer and Brodie's parents. There was a surprise player in the trouble that Jennifer was having, and we're left hanging a bit about what his complete involvement was. There's also a new clue in the deaths of the Maguire's parents that is a lead in to the next book.