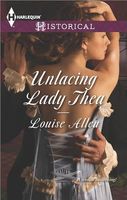 A journey into pleasure…
The night before dissolute Lord Denham is about to embark on his grand tour, he meets an unexpected complication. In boy's clothes that barely conceal her delectable curves, his childhood friend Lady Althea Curtiss -- desperate to escape an arranged marriage -- arrives, demanding free passage!
Rhys accepts his unlikely traveling companion with great reluctance -- the scandal is sure to blow up in his face -- until he finds there is far more intimate territory Lady Thea is curious to explore. Soon he realizes that he is in danger of awakening not only Thea's sensuality, but also his own long-buried heart….
Good friends to lovers story. Thea and Rhys have known each other for a long time, though they haven't seen each other in six years. Thea is twenty-two, sees herself as rather plain and not particularly appealing to men. She still has a fairly romantic view of life, and feels hurt and betrayed when the man who had been courting her is revealed to be a fortune hunter. Desperate to avoid a marriage arranged by her father, she flees to her old friend Rhys, hoping he'll escort her to her godmother in Venice.
Rhys had been stood up at the altar six years earlier. Since then he has become something of a rake, known for his mistresses and his avoidance of anything marriage related. Now that the war is over, he has decided to embark on the Grand Tour he didn't have when he was younger. He admits to himself that it's another way of putting off the need to marry for a little longer. A few hours before he's due to leave, Thea shows up on his doorstep, begging for his help.
I loved the relationship between Rhys and Thea from the start. Thea is practical, honest about her views of herself and others. She still believes in love, despite her heartbreak, and is determined not to marry unless she finds it. She is confident in her own ability to manage life on her own until she does. Though she hasn't seen him in six years, she's confident enough in her friendship with Rhys to believe that he will help her. I loved seeing the way she talked her way past his alcohol-induced fuzziness to get him to agree to take her along with him. I felt a little sorry for him, because he was no match for her in his condition. By the time they were on the road he was beginning to regret it, but he stood by his promise and didn't send her home.
The threads of their friendship are still there and are just as strong. But there is something else that is there also - an attraction that neither wants to admit to. Thea has been in love with Rhys for most of her life, though she tries to convince herself that she has outgrown it. She knows that Rhys's preference seems to be for beautiful blonds, not plain brown haired women. What she feels now is far different that what she felt before. Rhys spends a fair amount of time trying to reconcile his memories of his friend Thea and the woman she is now. He has a hard time understanding why he's attracted to her when she's so different than the women he usually pursues.
As the journey progresses, their relationship progresses also. I loved seeing Thea's independence, and how she was ready to live life on her own terms. It was great fun to see her stand up to Rhys when he tried to discourage her. I loved the way that Rhys kept getting reminded of the fact that Thea is a grown woman. His bouts of jealousy were pretty amusing, especially in the way that they confused him. It was great to see them finally admit their attraction to each other, though they still denied that it was more. Their first attempt to be together didn't go quite as planned and was a pretty funny scene to read.
Thea realizes pretty quickly that her love for Rhys had never gone away, just had been buried. But she still doesn't believe that she has what it takes to keep Rhys's interest. Meanwhile, Rhys remains fixated on his vision of what he wants in a wife, in spite of his reluctance to actually look for her. When they reach their journey's end, both will have to decide what they really want. That doesn't come easy, with each of them remembering what they had said at the start of their voyage, and not wanting to risk their hearts again. There's a surprise encounter with the past that livens up their first night in Venice, and gives Rhys something to think about. He runs, but doesn't get too far before realizing what he's wanted all along. I loved that Thea didn't sit around waiting for him, but tried to make the best of her situation. I liked Rhys's big moment at the end.
The secondary characters of Thea's maid and Rhys's valet were really good. I enjoyed seeing their views of the travels, and their developing romance was a good counterpoint to Thea and Rhys's. I also enjoyed the appearance of Giles Benton, whom they rescued from the coach wreck. I loved seeing the way that his friendship with Thea developed, and Rhys's attempt to match them up was pretty amusing. Even better was his and Rhys's encounter in Rome later on.