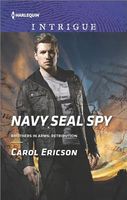 Series:
Brothers in Arms: Retribution
(Book 3)
Honor. Courage. Commitment.
Fresh out of the Navy, Liam McCabe has plenty to prove and the skills to back it up. His first mission is straightforward -- infiltrate and then expose criminal organization Tempest. Until he runs into Katie O'Keefe. Now he's engaged in a high-stakes game of espionage with the one woman who can blow his cover. As far as reunions go, this one is likely to go down in flames. It's a chance Liam is willing to take in order to complete his mission. Even if everything inside him wishes he could hold off on saving the world and work on giving their relationship another chance.
Very good book. Katie is using a fake name while she works at Tempest. She is looking for revenge for the death of her foster brother, Sebastian, who committed suicide while working for them. She's making good progress when, during one of her snooping sessions, she witnesses a murder. While fleeing the scene she runs into Liam, who is there on his own mission.
After leaving the Navy, Liam was recruited by the covert ops group Prospero. His mission is to infiltrate Tempest and find out what they are doing and bring them down. Encountering someone he knows is the last thing he needs, much less the woman whose heart he broke. She could blow his cover in a heartbeat.
From the moment Katie witnesses the murder, the suspense is intense. As soon as they run into each other, Katie and Liam have to decide if the other can be trusted. Because of their prior relationship the seeds of trust are already there, so it isn't hard for them to make that connection. Because he knows exactly what Tempest is capable of, Liam desperately wants Katie out of danger, but she is set on her own goals. I loved seeing the way that they worked together, each in their own specialty, but finding ways to coordinate their actions. There are several instances where the tension increases, such as when Katie is tapped for a special project for the boss, and when Liam is injected with a drug that causes him to black out and temporarily lose his memory. The intensity of the final confrontation had me holding my breath until they were safely away. And while this story had closure, there are still some loose threads that need to be dealt with. I can't wait for the next book.
I also loved the rekindling of the relationship between Katie and Liam. The feelings are still there, even after two years apart. I especially liked the fact that Liam admitted that he had been stupid to let Katie go. I really liked that they were so protective of each other also, not just Liam wanting to watch out for Katie. She was still a little wary of trusting him with her heart again, but by the end was ready to take a chance. I loved the solution that he came up with for them to be able to be together.