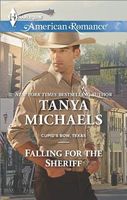 Series:
Cupid's Bow, Texas
(Book 1)
A FRESH START
Widow Kate Sullivan moved to Cupid's Bow, Texas, to get her teenage son on the right path. But their new life in the small town gets off to a rocky start when her son is caught shoplifting by the sheriff. Kate is immediately attracted to Cole Trent, but she's not ready to fall in love again, and certainly not with another cop.
Cole should have known Cupid's matchmakers would scramble to fix him up with a smart, beautiful woman like Kate. The single dad has managed to evade their efforts until now, so he and Kate come up with a plan to keep the matchmakers at bay. Pretending to be a couple was a good idea, until Cole realizes his feelings are anything but pretend. Can he convince Kate to give their romance a real chance?
Very good book. Kate had lost her policeman husband two years earlier when he was killed in the line of duty. Since then, her son Luke has been getting into more and more trouble. She decides to remove him from the bad influences by packing up and moving to Cupid's Bow, Texas. She loved the time she spent there with her grandmother when she was a kid and hopes that Luke will feel the same. It doesn't look promising when Luke is caught shoplifting by the sheriff on their first day in town. To top it all off, her grandmother is in matchmaking mode and Kate just isn't ready to go there.
Cole is the single dad of five year old twin girls, as well as being the sheriff. He also suffers from being the target of well meaning matchmakers. He suggests to Kate that they spend some time together, give the matchmakers the impression they're together, and get themselves some peace. Neither expects to connect they way they do.
I felt for Kate. She was at her wit's end trying to deal with Luke and his problems as well as deal with her own feelings of loss. She wasn't too happy at first about the attraction she felt for Cole. The last thing she wanted was to get involved with another cop and risk that kind of heartbreak all over again. But she couldn't deny that she enjoyed his company, and the kisses were pretty hot too! It wasn't long before she was falling for him and his adorable girls. But when the reality of Cole's job brings her fears back to the surface, Kate has to decide if she wants to risk it all.
I loved Cole. He's dated some since his divorce, but hasn't found anyone that he's ready to spend the rest of his life with. That hasn't stopped his mom from frequently trying to fix him up with various women. His second meeting with Kate goes a lot more smoothly, and he's impressed with the way she connects with his daughters. Spending time with her isn't going to be hard at all.
I loved seeing the relationship between Cole and Kate develop. Though it started out as a mutual protection thing, it wasn't long until they really wanted to spend time together. Kate was really cautious, wary of letting herself get involved with another cop. In spite of that worry, she really liked the man inside the uniform. Cole knew about her fears, and as they got closer he realized he wanted more than just their pretend relationship. I loved the patience he had, as he wanted to push their relationship further, but knew that he couldn't rush her. I hurt for him when his injury sent her running away and he feared that it was the end. I loved seeing who showed Kate the error of her ways. Her big moment at the end was sweet and romantic and so very emotional.
The kids were a huge part of the story. Cole's twins were adorable. He was a great father to them and I loved seeing how hard he worked at it. I enjoyed the realism of his struggles also, especially the help he had from Kate in realizing that the girls may be twins but aren't the same. I loved the connection that Alyssa had with Kate's son Luke, and how it ended up helping Luke also. Having part of the story told from Luke's point of view was a really nice touch. I liked being able to see his thought processes and what led up to his misbehavior. His attitudes were pretty typical for the age, which added to the realism of the story. But at heart he was a good kid, and I loved his pep talk to Kate at the end.