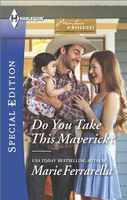 Series:
Montana Mavericks: What Happened at the Wedding
(Book 2)
The fallout from last month's wedding-to-end-all-weddings continues. Did you hear that Claire Strickland and her oh-so-handsome husband, Levi Wyatt, have called it quits? Everyone thought these two were the perfect couple with the most perfect baby. One minute they were together, the next there was a poker game and then… What could have possibly steered these two young lovebirds off course?
Even though they are on the outs, rumor has it that Claire and Levi have both taken up domicile at Strickland's Boarding House. We find this behavior highly suspect -- and everyone in town is weighing in, too! So don't pack your suitcases yet, dear readers -- we have a feeling this love story is far from over!
Good book, a little different than most. In this case, Claire and Levi are already married, but have run into problems. During July's big wedding, Levi got involved in a poker game and stayed out all night. Claire was especially angry, as she had arranged to leave their 8 month old daughter with her grandparents so that she and Levi could have a night out. Now she's taken their daughter and is staying with her grandparents, leaving Levi wondering what the heck happened.
I felt bad for both Levi and Claire. They've been married for two years and have an eight month old little girl. Levi works long hours to make sure that he can support his little family. He has some security issues resulting from his father walking out when Levi was young. He has always felt that it was somehow his fault. He worked hard to help support his mother and brothers, but still feels that he isn't good enough to have someone stay with him. Having Claire walk out on him reinforces those feelings.He truly loves her, and I felt sorry for him when Claire went off on him. He had no clue why she was so mad.
I was frustrated with Claire a lot of the time. I understood her anger when Levi went to the poker game, but she did a terrible job of telling him why. She simply expected him to understand. Even when he asked her straight out, she didn't really explain in ways he could understand. It felt like she was too ready to give up on them. Claire had her own security issues. She had always been very conscious of the way she looked, and made sure that she always had her makeup on when she was around Levi. She didn't believe that she was pretty enough for him to stay with if she didn't. She believed that his long work hours were because he was getting tired of being with her.
I liked the fact that Levi didn't give up on them. He decided that he would go where she was and try to find a way to work things out. I liked seeing the way that Claire's grandfather was determined to help Levi however he could, even though it ticked off Claire's grandmother. There were times when I wasn't sure if her grandmother wanted Claire and Levi back together or not. I did like her no nonsense attitude, and the way she told Claire to stop feeling sorry for herself. Claire knew that she still loved Levi, but didn't think he wanted her any more. Their time at her grandparents' gave them a few chances to clear things up. They would make some progress, but then Claire would freak out again. I liked seeing her grandmother finally make Claire see a different way of looking at her marriage. The ending was good, as they finally learned how to actually talk and listen to each other.