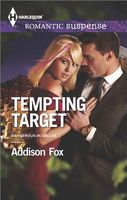 Series:
Dangerous in Dallas
(Book 2)
New danger in Dallas...and what one woman wants to keep hidden
It started with a break-in. Now, after uncovering a priceless treasure hidden in the floor of her wedding catering business, Lilah Castle has a target on her back. A mastermind has made it clear that there are no limits to winning this game. As if that weren't stressful enough, cool-eyed Detective Reed Graystone refuses to stray from her side and his reasons aren't purely professional.
But when the increasing danger is linked to a dark secret from Lilah's past, only Reed will be able to protect her--from peril and from herself. All Lilah has to do is trust him...before it's too late.
Very good continuation of the series. It can be read as a stand alone, as backstory is filled in, but it is better read in order to get the full story. It's a few days after the end of the first book and the women are trying to get caught back up with their business. But none of them can forget the jewels they have and the man who will kill to get them. The book focuses on Lilah, the baker of the business.
Detective Reed Graystone has made it his mission to stay close to Lilah. As the investigator in this case, he is concerned for Lilah's safety. He's not sure that she fully understands just how much danger she is in and he is determined to keep her safe. As he learns more about her and her past, he's impressed with her strength and drawn to the sweetness underneath that strength. As he gets closer to her, I loved his comments about her being a "sugar pusher" and how addictive she is.
Lilah has avoided men ever since the end of her marriage to an abusive man. With the trouble that has come with the discovery of the jewels, she is surprised that she is so comfortable around the three men who have become part of their lives, especially Reed. Besides feeling safe when he is nearby, she is also feeling an attraction she's never felt before. But although she escaped from her marriage, the effects of her husband's abuse are still with her. Most of the time she is very confident in her new life, but now and then she gets really down on herself for what she sees as her stupidity in not seeing him for what he was.
As the investigation continues, the six of them search for the connections that set off the attacks. In the previous book, Cassidy's brother-in-law and ex-fiance had been discovered to be involved, but they suspect that there is more. Further discussion among them leads to Lilah's ex-husband. I loved seeing the way that Lilah insisted on being part of an attempt to discover if he is involved. The scene in the restaurant was fantastic, and Lilah's attitude toward him was great. The attack on Reed and Lilah later that night was nerve wracking, and they were lucky to come out of it as well as they did.
Once again there was someone pulling strings behind the scenes, and danger comes directly to Lilah. It brought back so many fears and bad memories that she could barely move, and she ended up hurting Reed because of it. I understood his feelings and hers, and I loved that they were able to talk it out.
At this point the identity of the man behind the scenes is revealed. While I had begun to suspect, it was still something of a shock. As he makes another attempt at the rubies, the danger gets even more intense. Once again our cast is safe, but resolution is just out of reach. I am really looking forward to the next book and seeing how it all works out.