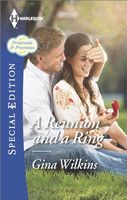 Series:
Proposals & Promises
(Book 1)
Someone's sleeping in my bed
Needing to ponder a marriage proposal, play-it-safe Jenny Baer escapes to an Ozarks cabin—right into bed with a naked man! What's a recuperating Officer Gavin Locke doing in her rental amid a raging storm? He's the last thing she needs—the man she loved…and left.
Trapped with Jenny in his cabin, with no power and too many memories, Gavin knows nothing's changed. She can't accept his dangerous career, and she's about to marry a powerful politician. But when one little kiss brings him to his knees, Gavin can't deny the attraction never died. Nor can Jenny. Once the flood waters recede, Jenny will wear a ring… But from whom?
Good book. Jenny has braved a storm to get to an isolated rental cabin where she can be alone to think about her future. Exhausted when she arrives, she discovers a naked man in the bed she was about to occupy. Not just any man, but Gavin, her college sweetheart and the man she left behind. Gavin owns the cabin and is there recuperating from an injury received on the job. He's not any happier than she is to be stuck together until the storm passes.
I liked Gavin quite a lot. Though he's not exactly thrilled to have Jenny show up, he does his best to be polite. He also discovers that the attraction between them is as strong as ever, something that he is determined to resist. It isn't easy to do when he catches glimpses of the old Jenny underneath the sophisticated surface she has now. I liked the way that he stood up for her against one of his friends when the guy was being obnoxious. I also really liked the way that he is happy with the choices he has made in his life. He's honest with her about the doubts he'd had when he was younger, and how he'd allowed people like her and others to try to change him, but eventually realized that he had to be true to himself.
Jenny irritated me through a good part of the book. First of all, to have to get away to think about the pros and cons of accepting her boyfriend's proposal tells me that she doesn't love him, otherwise there would be no doubt. She spent way too much time thinking about what her grandmother's opinions would be. Looking at her past, I hated the way that she let Gran influence her attitudes so much. Gavin had a really good point when he called her a snob. I liked the way that she loved her work, and her unhappiness at the idea of having to give it up to be with Thad should have told her something was wrong.
I loved seeing the sparks that Jenny and Gavin still had going between them. Those sparks made it impossible for Gavin to just walk away after seeing her again. Jenny also had to face the fact that her feelings for Gavin were so much stronger than what she felt for Thad. I liked seeing them get to know each other as who they are now, and the difference it makes to the way they see each other. Gavin makes a point of telling Jenny that she needs to be true to herself if she's going to be happy, no matter what her decision is about Thad. I liked the scene where Gavin is driving Jenny home and stops to help someone, giving her a small taste of what he does. I loved how that influenced something she said later at an event she attended with Thad. I really liked the ending, with the conclusion circling back to the cabin where it all started.