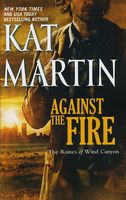 Series:
Raines of Wind Canyon
(Book 2)
Once one of the "no-account Raines boys," Gabriel Raines has pulled himself out of poverty by his bootstraps to become a successful businessman -- one who has become the target of revenge . . .
You can't fight what you can't see. And Gabriel Raines can't be sure just who's setting the fires in his new real-estate development. When two fires hit back-to-back, he knows it's personal, but any number of competitors or ex-employees could be the arsonist.
The police suspect Angel Ramirez, a local teen who's been in trouble before. But Mattie Baker, a volunteer at the Family Abuse center, just can't believe the kid she's been working with would go back to his delinquent ways.
Determined to convince Gabe that she's right, Mattie must get close to him and find out who's putting their neighborhood in jeopardy. And just as the arsonist's flames continue to burn, they find a heat developing between them. It might just turn into a full-fledged fire . . . if they can survive long enough.
Very good book with excellent suspense and good romance. Gabe overcame a rough childhood and has become a successful development and construction businessman. When one of his projects is torched by an arsonist, a young teen with a previous record is accused and arrested. Mattie is a successful architect and volunteers with a local Family Abuse Center. When a teen she's been working with is accused of arson, she's determined to show he's innocent.
I loved the initial meeting between Gabe and Mattie. She's passionate about her belief in Angel's innocence and that gets Gabe's attention. Because of his own past, he's willing to give Angel the benefit of the doubt. There's an immediate spark between Gabe and Mattie that he is interested in pursuing, but she is wary. Mattie avoids entanglements with men and devotes herself to her work and her volunteering. Her father passed away when she was young, leaving her and her mother with little to live on, convincing her that it is better to be self sufficient than relying on someone else. Then the man she was engaged to deserted her when she was pregnant, reinforcing those beliefs. She's attracted to Gabe, but reluctant to get involved
When Angel is cleared of suspicion he wants to help find who is targeting Gabe and ends up getting badly injured. Feeling like they're responsible, Gabe and Mattie decide to do some investigating of their own. Constant proximity to each other has the sparks burning brighter and feeling beginning to develop. Gabe hasn't been much interested in relationships and permanence in the past, but the more time he spends with Mattie, the deeper his feelings go. But Mattie's fears have her trying to keep some distance between them. I liked Gabe's patience with Mattie's fears, but he also wasn't above pushing a bit to get her where he wanted her. Mattie slowly realizes that she has fallen in love with Gabe, but trusting him with her heart is something she isn't willing to do. It isn't until their lives are in danger that she's ready to give him everything.
The suspense of the story was excellent, with the attacks on Gabe's properties escalating throughout the book. There were multiple suspects, all of whom had motive, and it was interesting to see them sort through them all. The fires start to take a heavy toll on Gabe's business and his frustration is obvious. He also became very worried about Mattie's safety as the attacks got more intense. I really liked seeing the help and support Gabe got from his brothers, especially Devlin. The final confrontation with the arsonist was intense and very scary.
I also enjoyed the secondary romance between Mattie's best friend Tracy and Gabe's foreman and best friend Sam. Tracy has her own fears thanks to an abusive childhood, and doesn't plan to ever marry. She has no problem using men for physical pleasure, but doesn't trust them. Sam is a really sweet guy who takes the time to show Tracy the respect he feels she deserves. He slowly shows her what real love is and that they can have a future together.