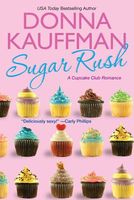 Series:
Cupcake Club
(Book 1)
Devil's Food...Angel Cake...Red Velvet...Praline Crunch...Lemon Chiffon... How's a woman to choose?
Luckily, the members of the Cupcake Club are about to taste it all...
When baker extraordinaire Leilani Trusdale left the bustle of New York City for Georgia's sleepy Sugarberry Island, she didn't expect her past to follow. Yet suddenly, her former boss, Baxter Dunne, aka Chef Hot Cakes, the man who taught her everything pastry, wants to film his hit cooking show in her tiny cupcakery. The same Chef Hot Cakes whose molten chocolate brown eyes and sexy British accent made Lani's mouth water and her cheeks blush the color of raspberry filling--stirring all kinds of kitchen gossip, much of which Lani wished was true...
Lani's friends are convinced that this time around, Baxter is the missing ingredient in her recipe for happiness. But convincing Lani will be a job for Baxter himself. And he'll need more than black velvet frosting to sweeten the deal...
This book was just plain fun. It had its emotional moments, and a few frustrating ones, but under it all were the things that made me smile. Lani is a talented pastry chef. She spent several years in New York, working for Baxter Dunne, British pastry chef and tv cooking show chef extraordinaire. The last year that she was there, she ran his New York City bakery while he filmed his show. At the end of the year, she left it all for the quiet little town of Sugarberry, Georgia, a move that no one understood.
Lani had come home to take care of her father when he had a heart attack, and realized after a few short weeks that she was far happier there than she had been in New York. The relief of being away from the high stress environment of the bakery, with its backstabbing coworkers, the constant innuendos of her sleeping with her boss, and the frantic pace of the city was immeasurable, So when she came up with the idea of starting her own cupcake bakery, she ran with it, and she's never been happier. Experimenting with unique flavor combinations, and making her neighbors happy at the same time, is a dream come true. Then her former boss comes strolling into her shop, claiming he wants to film the new season of his show in her kitchen. The same boss that she had a crush on the entire time she worked for him, is now claiming that he's had feelings for her for just as long.
I have to say I liked Baxter. He is the epitome of the self made man. I felt a bit sorry for him at the beginning, because he was so blessedly clueless. He had realized just how much he missed Lani, came up with the idea of filming his show at her place so he could spend time with her, and figured that she'd happily come back to New York with him when it was all done. He was stunned when she told him that she didn't want his show there, didn't want him there, and was perfectly happy doing what she was doing. He was so confused that I just wanted to give him a hug and tell him it would be okay. It took a couple days of seeing what she does, but he finally began to understand. However, he still wants to find a way to get Lani in his life. I loved his determination, and his efforts, even though some of them backfire on him. He doesn't give up, he just finds a way to readjust his plans.
Their relationship develops with the background of Lani helping Baxter with his show. She hadn't wanted to, but realizes that it will be good for the town she loves. She tries very hard to keep their relationship to just friendship, but that isn't working out too well. Now that she's spending time with him as something other than an employee, those old feelings come roaring back. Baxter has told Lani about his feelings, but convincing her to do anything with them is an uphill battle. Both of them are getting to know each other in ways they hadn't before. I loved Baxter's fascination with the "new" Lani, and how much deeper his feelings grow for her. One thing that they have going for them is that the chemistry between them is hot. Lani tries really hard to keep that in the background, but it's soon too much to resist.
Both of them have admitted that they want to be together, but they can't figure out how to do it. Lani is a small town girl who has absolutely no desire to go back to the city. Baxter is a city boy through and through. His work is there and the energy of the city feeds his own energy. Finally, they decide that they will just enjoy what time they have together, and accept that it will end when he's done filming his show and has to leave. Of course, neither wants it to end, and they find a way to stay in touch while supposedly sticking to their "it's over" rules. I loved the ending and seeing how it was Baxter's determination that found a way to make it work.
There are some fantastic secondary characters that add some extra fun to the book. Alva is the octogenarian, Betty White wannabe, who always has something going on. I loved seeing her slide her way into Lani's life, becoming a helper before Lani figures out what's going on. Lani's best friend, Charlotte, a fellow chef from New York, drops everything to come to Sugarberry to support Lani. It was fun to see the way that she was actually pushing Lani toward Baxter at the same time. I also loved her assistant Dre, and her ability to do just about anything Lani needs. I had so much fun seeing them get together for their "Bitch and Bake" baking therapy sessions.