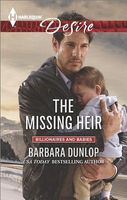 Series:
Billionaires and Babies
(Book 52)
When tragedy strikes, Cole Henderson must claim his true legacy and provide for his baby half brother. Luckily, the innocent infant is in the very capable hands of Amber Welsley, a woman Cole soon finds impossible to resist. But a bitter custody battle and rumors of financial double-dealing force Cole to claim the fortune he never wanted -- and the child Amber considers her own. Will his secrets destroy Amber's faith in him? Or can Cole win her back and create a family of his own?
Very good book. Cole is the legitimate oldest son of Sam Henderson, owner of an Atlanta based airline. His parents had married young and impulsively, with Sam knowing that his parents wouldn't approve. They didn't, and eventually talked Sam into divorcing his wife. She never told him that she was pregnant, fearing that his rich family would take her child. Though their lives hadn't been easy, Cole and his mother had been happy, and now Cole owns his own growing airline in Alaska. It means nothing to him when he hears that his father and others from the company have died in a crash, until he learns of the existence of his nine month old half brother. He still hesitates to get involved until his friend and business partner points out that the little boy is vulnerable if his guardians turn out to be unscrupulous.
Cole goes to Atlanta to check things out, but doesn't tell anyone who he is. He meets Amber, who is Zachary's aunt and guardian, and sees that he is in very good hands. Cole is attracted to Amber, but with his own life being back in Alaska, he knows he shouldn't get involved. He sees that Amber loves Zach and is willing to do anything for him. But there is a custody battle brewing from another member of the company, because whoever has guardianship of Zach also has the power to run the company. Cole wants to protect Amber and Zach, but he'll have to confess about who he really is.
I really liked Cole. He accepted his life long ago, and has no real bitterness toward his father. I liked the way that he saw his friend's reasoning and decided to go to Atlanta to check on his brother. It was fun to see the way the little boy immediately connected with him. For a bachelor who had never been around children, it was pretty sweet to see Cole with him. He is also quite protective of Zach and Amber, especially when he finds out about the custody suit. I loved the support that he gave Amber as he showed her what she needed to do regarding the company and Zach. I also liked the way that he stepped up when it became obvious that things weren't going well with the suit, even though it got him into trouble with Amber.
I liked Amber also, but she did frustrate me at times. She is wonderful with Zach, and is determined that she be the one to raise him. Having to deal with the running of the company scares her. She's been a company accountant for years, but anything more than that is beyond what she's comfortable with. She's attracted to Cole, but overwhelmed with everything else that is going on. She's impressed, and maybe a little jealous, of his quick connection with Zachary. Her attraction to him is unexpected, and she finds herself leaning on him more and more. With him backing her up, she has a little more confidence in her abilities, but it's shaky at best.
Cole and Amber get closer as they take care of Zach and Cole helps Amber with the business side of her new responsibilities. I loved the part where he takes her shopping, and later when he is there to support her during a company crisis. Their feelings are changing, but neither wants to admit it. Amber feels like he's betrayed her trust when he interferes at the first custody hearing, even though he does it to protect Zach. Cole has to find a way to prove to Amber how he feels about her. There are some interesting twists and turns, and a few missteps by both Cole and Amber, but the ending turns out fantastic. I did enjoy seeing Cole do a little groveling to make up for his mistakes.
I also liked the secondary characters of Cole's friend and partner Luca, and Amber's friend Destiny. I enjoyed seeing how they developed their own relationship as well as helping their friends. I found it interesting that Luca had Cole's proof of identity with him without Cole's knowledge - would have love to know how that happened. I also liked seeing Destiny help Amber see the truth at the end of the book.