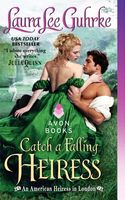 Series:
An American Heiress in London
(Book 3)
She's an American heiress. He's a devilish earl. When these two collide, the sparks ignite a shocking scandal
Linnet Holland wants nothing to do with fortune hunters. No, she's determined to marry a man who loves her. But just as she's about to accept the perfect marriage proposal from the man she wants, the rakish Earl of Featherstone interrupts and ruins everything, including her reputation, with his smoldering kiss . . .
Jack Featherstone knows all about Linnet's "intended," and he's determined she won't fall prey to that villain as other women have in the past. But when his attempt to save Linnet ruins her instead, he knows he has to make things right. So he sets out to win this golden beauty . . . and prove to her that being ruined by him was the best thing that could have happened to her.
Good book. Jack has spent a year in the US, working a sting that he and his friends set up to take down a really terrible man. The scheme is just days away from its culmination when the bad guy sets his sights on a rich young woman who would enable him to wiggle free. There's no way that Jack can allow the man to succeed, so he butts in. Unfortunately, his actions create a scandal for the young woman in question, so he does the right thing and proposes.
Linnet has spent the last year being paraded around Europe by her mother, who was a titled husband for her daughter. Unfortunately, most of the men who were interested were fortune hunters. Even the one that she thought wanted her for herself, turned out to be just like the rest. Now that she's back home, she wants an American man who will love her for who she is. She's happy when her childhood crush is about to propose, and furious when everything is ruined by the brash Englishman. She doesn't care what anyone says, she's not going to reward him by marrying him. With a ruined reputation at home, she heads back to England to try again there.
I liked Jack. He's an honorable man, and a pretty nice one too. I liked the way that he was all in for helping his friends bring down the bad guy. I loved the way that he tried to protect Linnet, and how he stepped up when his methods brought trouble to Linnet. He had never planned to marry because he doesn't have the means to support a family, and he wasn't going to marry for money like most of his family had done. Unfortunately for him, in order to support her, he'll have to take the money that comes with her, making it hard for him to convince Linnet that he isn't a fortune hunter. He had to propose because of the scandal, but what he found was that he really did want Linnet for herself.
I was frequently a bit frustrated by Linnet. I really did understand her problem with the way her mother was pushing her toward a man with a title, not caring if he actually had feelings for Linnet. Her hurt when she discovered that the one man she thought wanted her for herself was just another fortune hunter was understandable, as was her desire to leave it all behind and go back to the life she knew. I couldn't believe it when she fell for the bad guy's sudden desire for her, to the point of agreeing to meet him alone. She wasn't happy with Jack's supposed rescue of her, especially when it landed her in the middle of scandal. She didn't want to be forced into marrying him, but just when she thought she'd have the support of her father, she discovered that he had his own agenda for her marriage. I liked that she had the strength of will to stand up for what she wanted and to go after it.
I loved seeing their relationship develop. Linnet was adamant in her determination to marry on her own terms. She was also determined to resist all of Jack's attempts to convince her to marry him. She didn't count on the fact that he was just as determined that she would marry him. There were two things working against him. First, that she believed he just wanted her money, and second, that she didn't trust her own judgment when it came to any feelings she did have for him. I loved seeing all the things that Jack did while trying to court her. Some were sweet, some were not, but all of them were aimed at breaking down her resistance. There were some terrific scenes that involved him showing her how the other contenders were wrong for her. There were also some places where he was very good at stoking the flames that were there between them, using them to show her that they belonged together.
Not everything goes smoothly, and Jack manages to make a few mistakes along the path to matrimony. The final one looks like it could put an end to all his hopes, but in the end he is able to make her understand. Linnet has to face her own mistakes and fears before she can bring herself to trust Jack and trust herself. I loved the final scene as they open up their hearts to each other and talk about their plans for the future.