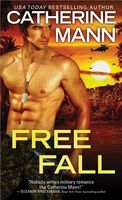 Series:
Elite Forces
(Book 4)
On This Mission, There Are No Accidents...
Pararescueman Jose "Cuervo" James is the guy they call for the most dangerous assignments. He lives for his job.
On a high-risk rescue deep in the African jungle, Jose encounters sexy, smart Interpol agent Stella Carson. They'd once had an affair that burned hot and fast, but family is everything to Stella, and Jose just can't go there.
Fate has thrown them into the deadly hot zone together, and sparks will fly...but only if they can live to tell about it.
Good book, with action, suspense and romance. Jose and Stella first met when she, as an Interpol agent, rescued him and his team during an anti-pirate mission. There was an immediate and intense attraction between them, and they began seeing each other whenever their work allowed. Their relationship was hot and fast, but began to fall apart when they realized they wanted different things from it. A month after parting ways, Jose is called in as part of a team to rescue Stella and other hostages in the African jungle. Their attraction reignites, but in order to do anything about it, they have to stay alive.
I liked both Jose and Stella. Both of them are intense, honorable, and very good at what they do. In order to focus on their mission, they have to try to set their emotions aside, something that is easier said than done. It's obvious that their feelings are just as strong as ever, but the obstacles to being together haven't changed.
Jose is a terrific guy. He can be sweet and romantic, as shown in the flashbacks of their relationship. He is also a recovering alcoholic, from a family of alcoholics, which has affected the way he looks at his future. He experienced the effect his mother's alcoholism had on himself and his sister as they were growing up, and saw what happened to his niece and nephew because of his sister's. Even though he has been sober for five years, he refuses to risk having children and ruining their lives. He's deeply in love with Stella, but he can't give her what she wants.
Stella is a really awesome heroine. She became a codebreaker for Interpol, but also uses her time to try to find out what really happened to her mother. While she was growing up, her mother was rarely home, as she was a Peace Corps worker in Africa, leaving Stella and her brothers to be raised by their father. When Stella was fifteen, her mother was killed in a car accident in Africa, but something never felt right to her. She wants to know more. She also has her life planned out so that, once she has had enough of her field work for Interpol, she'll take a desk job, find a man and have the family she always dreamed about. She never expected to find the man she wanted in the middle of a mission. Over the five months of their relationship she fell hard for him, and was heartbroken when he made it clear that his vision of the future wasn't the same as hers.
Their reunion was full of stress, emotion and passion. They have to work together to stop the terrorists and their plans, which means setting their emotions aside. But they also find it impossible to keep their hands off each other. They are miserable when they are apart, and know that there isn't anyone else who is so right for them, but finding a way to be together seems impossible. I really liked the way each of them respects the job that the other does, and doesn't try to change them. Knowing what they do about the other's job, fears for their loved one's safety run very deep. Stella tries to show Jose that he isn't anything like his mother and sister, but he can't see it. Jose is frustrated by the fact that Stella can't seem to accept how deep his fears are. Both of them have to find a way past their issues if there's to be any hope for them to be together.
The suspense aspect of the story was riveting and action packed. The initial preparation for Stella's rescue showed her strengths, as she found ways to pass information to the rescue team. The rescue itself was intense, with some questions about just what the purpose of the capture was. Information about a planned public attack comes to light, and the agencies present have to find a way to stop it. As the story goes on, danger, drama and secrets keep the action moving along. There is a huge twist at the end that I never saw coming. The final confrontation at the end was intense, and very well done.
I enjoyed the secondary characters, who added depth to the story, along with a few moments of lightness to break some of the tension. I especially enjoyed the parts with Bubbles and fuzzy things. I also liked the romance between Annie and Sam, as "mature" romances are few and far between in romance novels. Even as a secondary story line, it's nice to see.