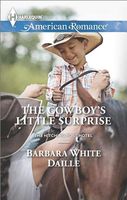 Series:
Hitching Post Hotel
(Book 1)
THE LONG WAY HOME
A guy like Cole Slater is hard to forget. Tina Sanchez should know -- for years since high school she's tried to bury the pain of Cole's cruel betrayal. But it's impossible to ignore the man she sees reflected in her young son's eyes now that Cole is back in her life -- and about to meet the child he never knew he had.
Returning home to New Mexico, Cole is determined to put his playboy reputation to rest. Especially now that he knows there's a little boy looking up to him. And seeing Tina again reignites all the feelings Cole ran from as a teen. Despite his fear that he can't be the man Tina deserves, he's determined to try. For his son's sake -- and his own.
Good second chance story as Cole returns to Cowboy Creek to help his sister. Besides helping her, he has some mistakes from his past to face up to and make up for. He had left five years earlier and hadn't been back since.
While in high school, Tina had had a huge crush on Cole. During their senior year she tutored him in a couple classes and they got closer. Then that closeness was destroyed by Cole's betrayal and his departure, leaving her to face heartbreak and an unexpected pregnancy. She never tracked him down to tell him about the baby, and his reappearance has her worried about his reaction.
Cole came to the ranch to apologize to the man he worked for and left without a word. He's surprised by Jed's easy acceptance of his apology and offer of a job. Tina's reaction isn't as pleasant. She's not as happy to see him and doesn't mind telling him so. When Cole finds out about Robbie, he's furious with her for not telling him, and determined to be a father to the little boy.
Tina and Cole had a lot to overcome in the rekindling of their relationship. Both have realized that their actions in the past have led to where they are now. Cole had been forced into the role of father, brother and caretaker of his sister when their father died, leaving Cole as the only one to care for her. He had dreams of leaving Cowboy Creek, and felt trapped. He was a bit of a playboy in school, never making any kind of commitment. When he started to have feelings for Tina, a girl who was the forever kind, he panicked and ran. Now he wants to put all that behind him. Finding out about Robbie brings his old fears back to the surface. With the kind of example his own father was, how can he possibly be any kind of a father for Robbie?
Based on her experience with him, Tina's not so sure either. But as Cole spends more time with her and with Robbie, she sees that he is already showing himself to be just what Robbie needs. Tina feels more and more guilty about keeping them apart as she sees them get closer. Her own feelings of rejection, both by Cole's actions and, further back, by her parents' behavior, had left her feeling wary of trusting her heart to him again.
I liked how both Cole and Tina owned up to the mistakes of the past and wanted to move beyond them. Their cautious cooperation as Cole got to know Robbie also gave them a chance to get to know each other again. The attraction is still there though they try to resist its influence. I loved seeing Cole with his nephew Scott and with Robbie. He was so wonderful with them, yet couldn't see that it was contrary to his beliefs about himself. It took both his sister and Tina to show him that he wasn't his father and open his eyes to what he can have.
The secondary characters are all well done. Tina's cousins give some more insight into why Tina is the person she is. Their presence gives her a chance to see some things from the past in a different light, and indicates some changes for all of them in the future. Cole's sister Layne, the reason for his return to Cowboy Creek, shows him that the past, while influencing the present, doesn't have to dictate it. I really liked her positive outlook, and hope that she gets a happy ending of her own.