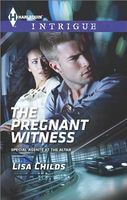 Series:
Secret Agents at the Altar
(Book 1)
Strong, handsome and crossing a dangerous line!
An expert at catching bank robbers, FBI special agent Blaine Campbell isn't sure who to trust. He's just rescued the beautiful assistant manager from being abducted by robbers -- but was it an inside job? What if pregnant Maggie Jenkins wasn't a hostage but a co-conspirator?
After several harrowing attempts on the young widow's life, the steely Blaine relies on his instincts: Maggie wasn't involved. The only thing she's guilty of stealing is his heart. Risking his life to find Maggie's would-be killers has become more than a job. She and her unborn child could be the future he never imagined for himself. All he has to do is keep her alive.
Good book that started with a bang and kept up the tension. Blaine is an FBI agent who specializes in solving bank robberies. He's been sent to Chicago to work on a series of robberies there, and arrives at one bank in the middle of a robbery. He arrived in time to stop them from taking a hostage, but the security guard, who was Blaine's friend, was shot and killed.
Blaine is a bit on the cynical side, and is suspicious of Maggie at first, especially when he learns she worked at another bank that also got robbed by the same people. But after foiling several attempts on her life, he realizes that she is innocent. However, she may still be the key to finding out who is behind it. Blaine just has to find a way to keep his mind on the job and off the attraction he feels for Maggie.
Maggie has been living with a great deal of guilt. Her fiance had been her best friend, and though they'd been engaged, her feelings for him weren't those of a woman in love. He had paid for her ring with his reenlistment bonus, then been killed overseas, and she blames herself. Now she's developing feelings for Blaine that are much different than what she had felt for Andy.
The development of their relationship was fast, thanks to the stresses of trying to keep Maggie safe. They learned a lot about each other in a short period of time. I loved Blaine's protectiveness, which was echoed by Maggie's wish to do whatever necessary that would keep him safe also. The ending was pretty sweet with the way Blaine confessed how he felt.
The suspense of the story was very good. The action was non-stop from the start, as the bad guys kept coming after Maggie. It was pretty clear that they thought she knew something and they were determined to get rid of her before she could say anything. Each encounter seemed to get more intense. The identity of one of the bad guys was pretty obvious, but the discovery of who the brains behind it all was a surprise to me. The constant action kept me hooked from start to finish.