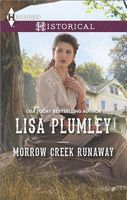 Series:
Morrow Creek
(Book 9)
When the past comes to call
A year ago, Rosamond Dancy never dreamed she'd find herself in Morrow Creek. After being removed from her job as a Boston housemaid, sold into marriage and widowed in quick succession, she's now determined to take back the reins of her life.
But then the past she's determined to forget shows up on her doorstep in the form of Miles Callaway -- and everything changes in an instant. Could Miles be the one to convince this runaway to hang up her shoes and stay by his side…forever?
Good book about new beginnings and overcoming adversity. A year ago, Rose was a housemaid in Boston, with a decent life and the possibility of romance. Then the master of the house made unwanted advances, his wife basically sold Rose into marriage with a gambler and whorehouse owner to get rid of her, and that husband died during a crooked card game. Determined to take back her life, Rose took her husband's winnings and headed West, along with the "ladies" who also wished for a chance to start fresh.
They end up in Morrow Creek, where Rose starts a matchmaking service to help her friends and fellow townspeople find love. She's quite successful, but that success doesn't make things easier for her. She's terrified that her former employer will come searching for her, and has hired security for her house to keep them safe. She is so afraid that she has started having panic attacks when she attempts to leave her home, so she doesn't go anywhere.
Then her fears are realized when someone from her past arrives in Morrow Creek. Miles was a stableman at the same house where she worked, a man that she liked quite a lot. She had felt bad about leaving without telling him, but it couldn't be helped. Now she wonders if Miles is there because he wants to be, or if he was sent by her boss to track her down.
Miles had been upset when Rose disappeared, as he had come to care for her very much. He couldn't believe she had gone without leaving him so much as a note. When his boss offered him a lot of money to find Rose, he took it, but had no intention of following through. He has been searching for her for months, and is happy to discover he has finally found her. But she's not the same girl she used to be, and getting close to her again isn't going to be easy.
The initial meeting between the two was interesting, with neither admitting who they are. The scene in the kitchen was pretty funny, as the ladies drugged his tea to question him. His answers were amusing and of course, gave away who he really was. But now that he's found "his" Rose again, he isn't about to give up. Over the next few weeks he finds ways to insert himself in her life and get to know her all over again.
I loved his determination and his ingenuity in getting involved. As he gets to know the new Rose, he is impressed by what she has done with her life. He is also concerned about her unwillingness to leave her house and works to help her conquer her fears. He also discovers that the attraction he felt for her before was nothing compared to what it is now, and that keeping control of himself is a real challenge. I loved seeing him use the sparks between them to help her move forward. At the same time, he's trying to find a way to end the threat against her.
I loved Rose's strength of will. From everything she went through in Boston to the events that brought her to Morrow Creek, she was determined never to be under someone else's power again. It was great to see the way she was helping her friends start new lives, even though she had given up all hope for the same kind of future for herself. Though she wanted to trust Miles, her past has made it difficult to do so. She finds that the feelings she had for him back home are still there, but she's afraid that he wouldn't want her anymore if he knew everything about her. She also discovers that she has a hard time resisting both his kisses and his attempts to get her away from her house.
The developing of their relationship is really good. I loved that Miles was sensitive to her fears, but that he was also determined to get her past them. I also liked the respect he had for what she had made of her life. I liked the way that Rose began to trust Miles to help her get over her fears. When she finally opened up to him about what had happened to her, she was able to believe that it would make no difference to the way he felt about her. One of the greatest things was the confidence that it gave her, and I loved how that confidence showed at the end.
That ending was very good. The final confrontation had a couple surprises in it, not least was Rose's fearlessness in dealing with it. She and Miles then had words, with Rose jumping to some conclusions. I felt bad for what happened to him, but enjoyed seeing the aftereffects, especially his conversation with Dylan. I really liked his big moment, and had fun seeing the obstacles put in his way as he tried to do it. There were several other surprises that came out that made the ending even more interesting.
The secondary characters were also really good. I loved her three security guys, Dylan, Seth and Judah. They were so protective of her, but also seemed to be on Miles's side. There were some great scenes involving them and Miles. I also liked Rose's friend Bonita. She worried about Rose and some of the things she said and did were a bit antagonistic toward Miles. She was involved in an interesting twist at the end, but it turned out well. I'd like to see her get a story of her own.